27 Best Business Blog Post Examples (Updated for 2021)
Blog Post Examples Categories
Pricing and cost
Product and service problems
"Versus" and comparisons
Reviews and ratings
"Best of" lists
"How to" overviews
Infographic showcases
Industry news reactions
I've mentioned this on multiple occasions, but one of my biggest gripes about the content marketing world is that we spend so much time talking about how important creating quality, revenue-generating content is to our strategies, but we rarely show what high-quality blog content looks like.
Sure, I stumble across the occasional article that says, "Oh, yeah, here are a few blog post ideas to consider, and don't forget your call-to-action!"
For the most part, however, us digital marketers are left to our own devices to figure out how the proverbial blog content sausage gets made — almost always without a roadmap or guide to show us what our end product should look like.
🔥 Free course: The 6 money-making topics you need to cover in your strategy
We sit down at our keyboards, blog topic mentally "in-hand," and hope that what we produce will answer the most pressing questions and concerns our readers have, in a way that is visually pleasing to look at and captures attention.
As IMPACT's editor-in-chief, this is one of the most common questions I address with internal and external contributors:
"I know what I need to write about, but I don't know what the end product should look like. Do you have any blog post examples that I can look at?"
Whether you are just now planning to start a blog for your business or you're a digital marketer who has been blogging for some time on behalf of companies, my goal in this article is simple:
To make your lives much, much easier — and to make creating revenue-generating blog content fun (really!) — by showcasing a broad range of world-class blog post examples across a variety of industries and subjects. For ease of use, I've broken up this list by blog post category.
🔎 Related: 'The Big 5' blog topics guaranteed to drive traffic, leads, and sales
I've hand-selected the articles below, as each of them are a case study in how to write great blog posts that not only engage readers, but also help move the needle on some aggressive digital sales and marketing goals.
Also, I highly recommend that you bookmark this link, as I will continue to update it overtime, so this becomes an evergreen resource for all digital marketers and content managers.
OK, let's dive in!
Pricing and cost blog post examples (The Big 5)
It used to be that you could gloss over conversations about pricing and cost in marketing materials the way one might sidestep politics and religion at the Thanksgiving dinner table.
But today's modern digital consumers are no longer content with vague "request a quote" forms. In fact, they expect to be able to easily find content about pricing and cost expectations for something they're considering purchasing online without ever having to speak with a human being.
Just think about the last time you made a big purchase — and how frustrating it was when you couldn't find pricing information.
🔎 Related: The only blogging tips guide you'll ever need
For example, I recently replaced the entire fence at my house. It was only later that I realized I mentally disqualified any vendor who didn't have some form of pricing information on their website. Either as a blog post article or on a more clear-cut product pricing page.
Of course, often the answer to the question of how much something costs is, "It depends," but that doesn't mean you can't create informative blog post content about pricing and cost, wherein you describe the factors and variables that drive the cost of a particular product or service up and down.
But don't take my word for it. Here are a few fantastic examples that show it's not only possible, but also profitable to create pricing and cost-based blog posts: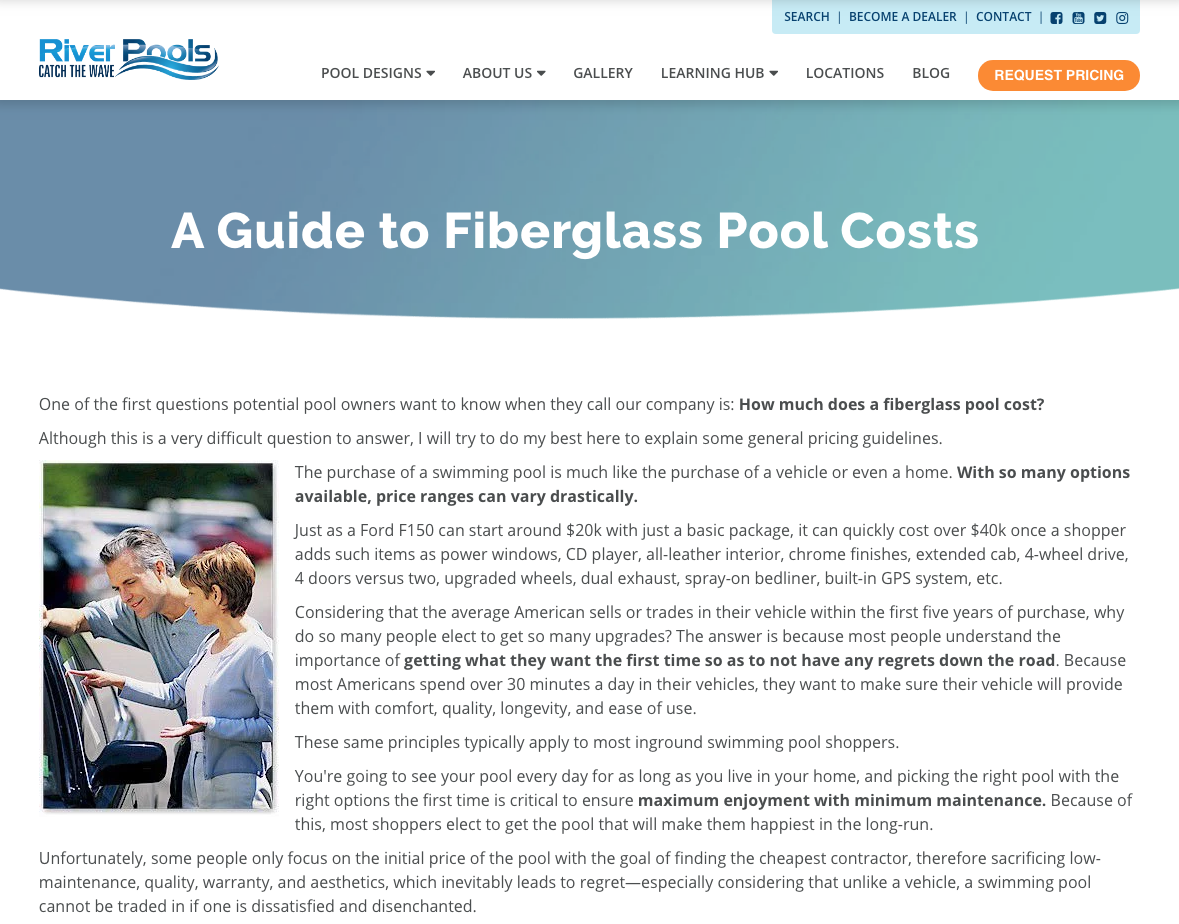 How Much Do Fiberglass Pools Cost? (River Pools & Spas)
There is no simple answer to this question, but they do a beautiful job of showcasing how to talk about the pricing of a product with tons of variables. Basically, it's the one-stop-shop for any consumer who is considering a fiberglass pool and needs to develop a deep understanding of the financial variables that will influence the ultimate price tag for their potential pool project.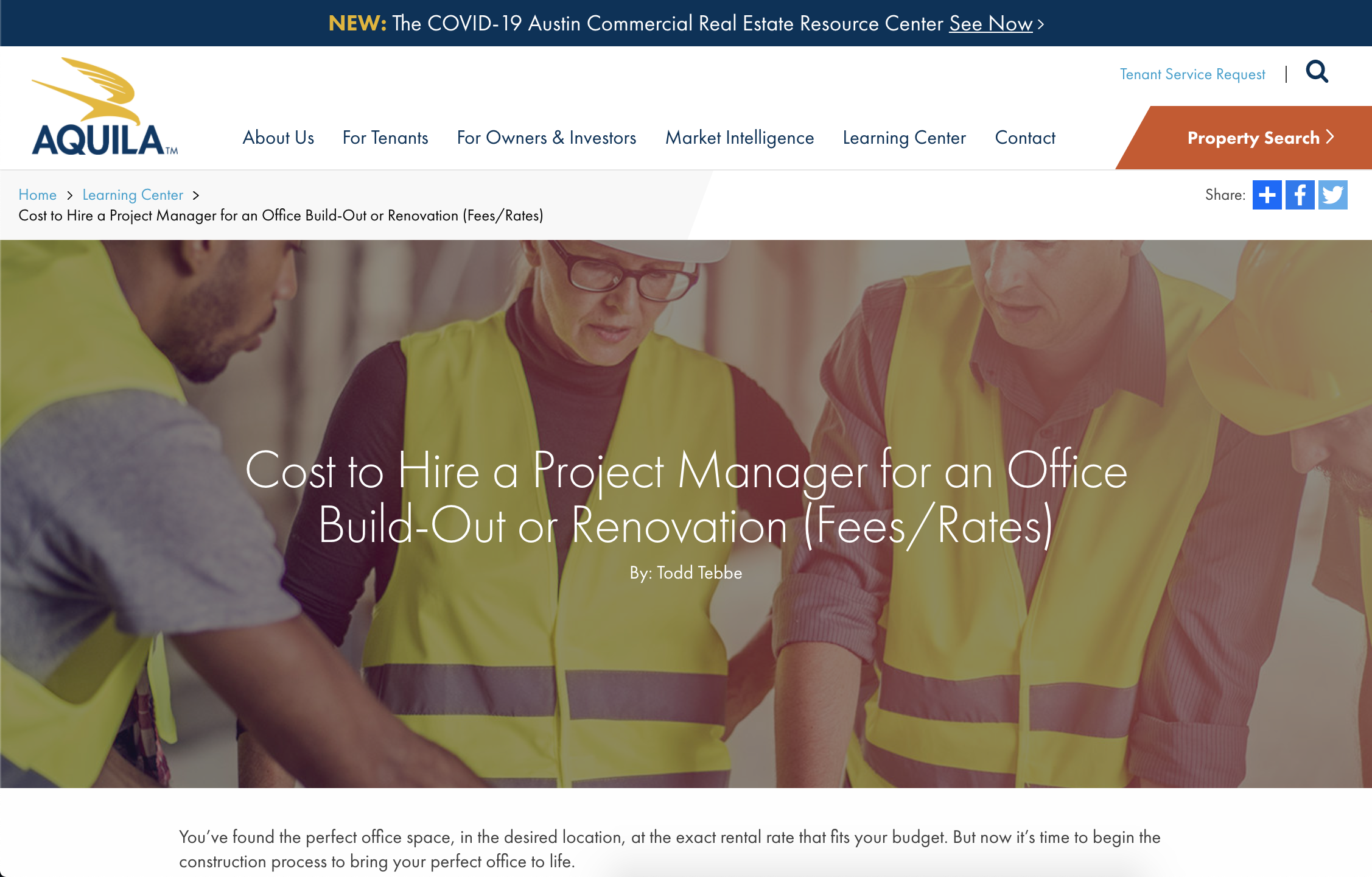 Cost to Hire a Project Manager for an Office Build-Out or Renovation, Fees & Rates (Aquila Commercial)
What I love about this article is that it deals with that textbook answer of "It depends," and then showcases how you can answer that question in a detailed way that still leaves an audience feeling more knowledgable than ever before. They even included a video!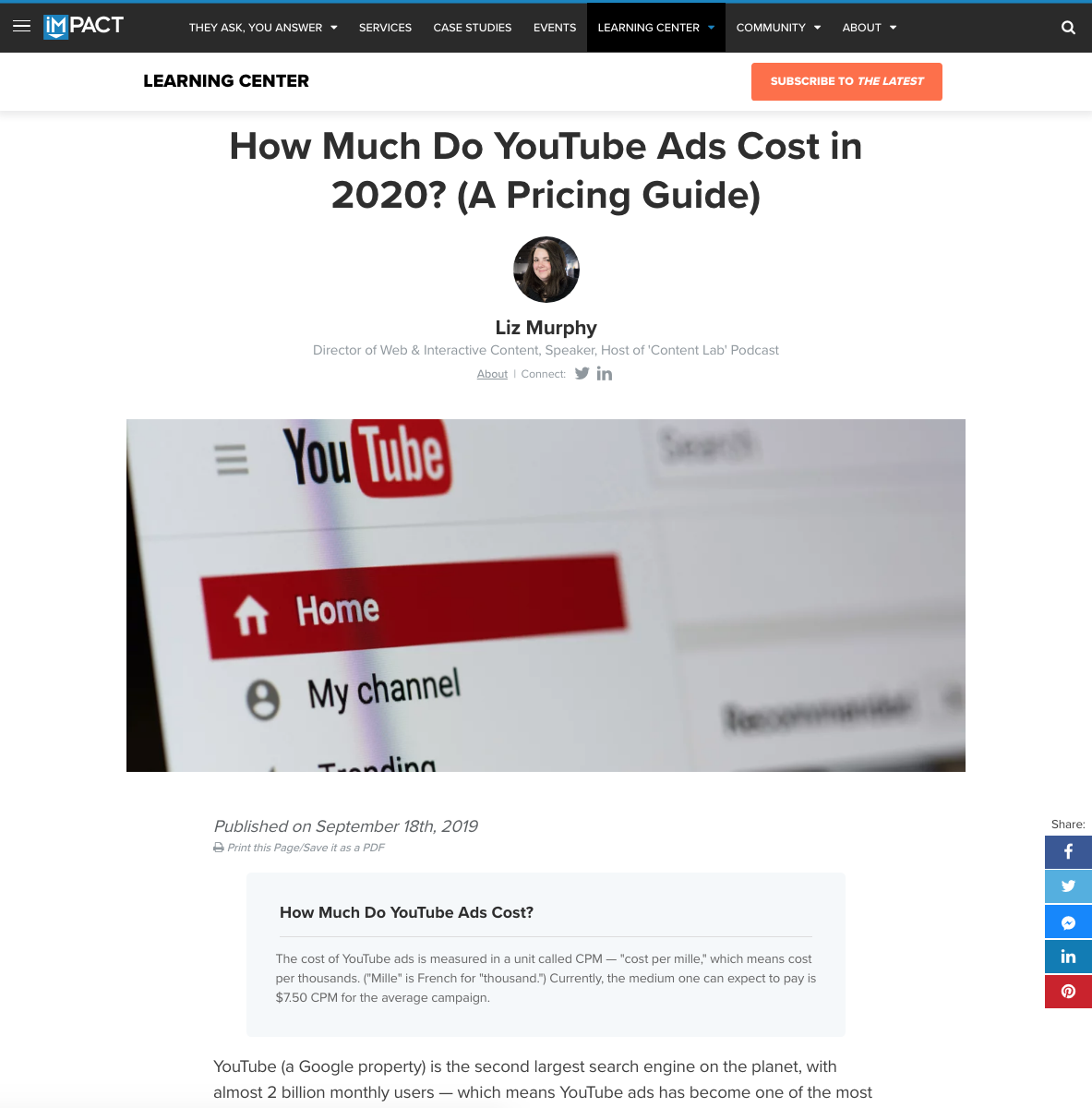 How Much Do YouTube Ads Cost in 2020? (IMPACT)
I can't tell anyone how much their YouTube ads budget will be (or should be, for that matter), but I can tell them how YouTube prices their ads, what the averages are, and what they should expect to spend.
I also threw in a few pointers about what you need to have in place first before you even consider spending a dime on YouTube ads.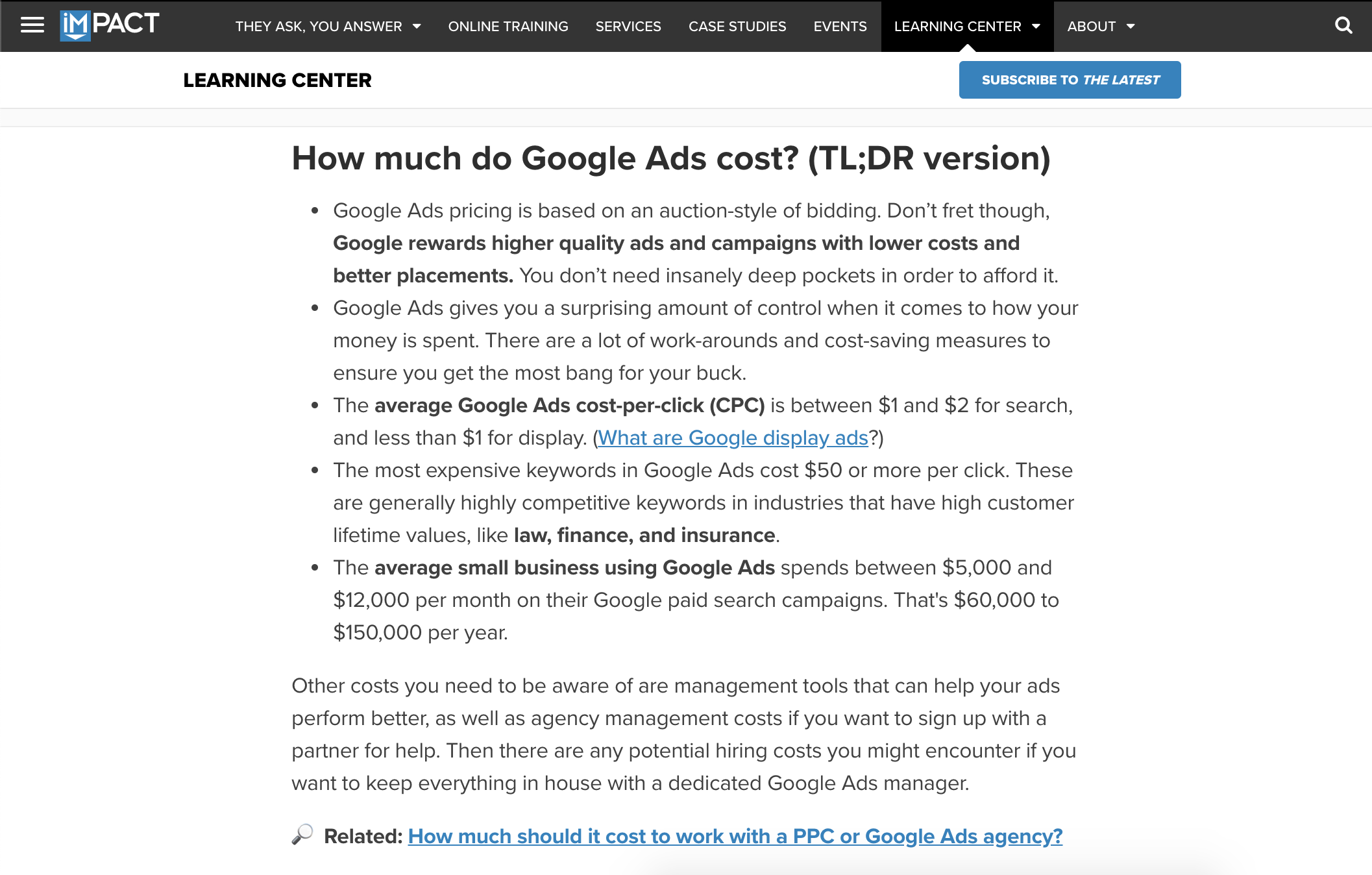 How much do Google Ads cost? (pricing and budget)
I love this article from IMPACT Paid Media Specialist Dan Baum because Google Ads is a super tricky topic to tackle from a cost perspective.
There isn't a single dollar amount he can give — on top of the fact that there are a lot of factors that can influence cost. But, more than that, there are a lot of different things people can or may want to end up paying for on top of just the ads themselves, like working with a paid media agency or PPC platforms and tech.
Since it's such a dense topic, Dan opened with a "TL;DR" version at the top before diving into the nitty gritty details. Seriously, if you consult on or sell something similarly complex, you need to look at this ideal example of a cost article.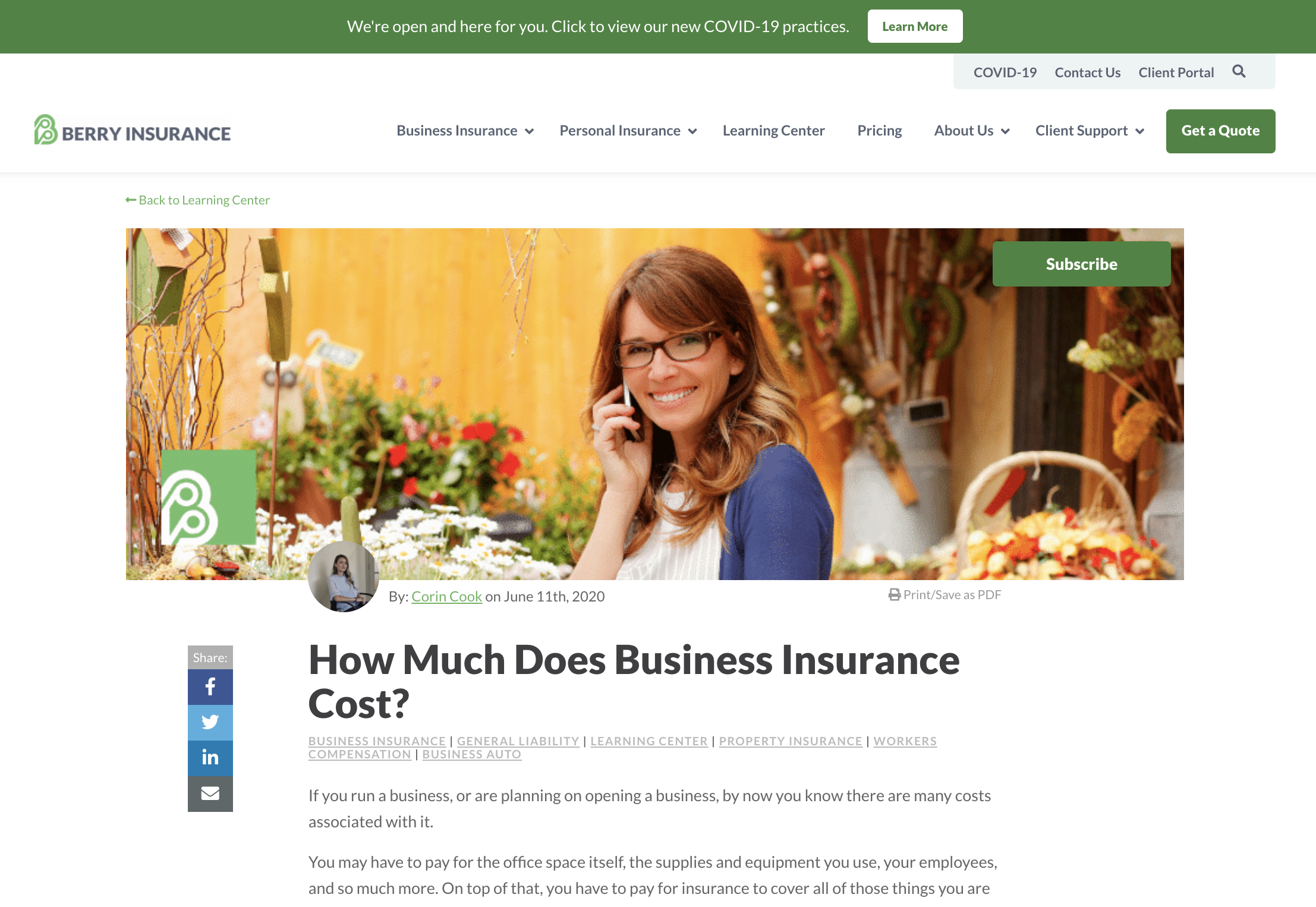 How much does business insurance cost? (Berry Insurance)
Berry Insurance's pricing page alone is a shining beacon of an example for businesses who are concerned the pricing of their products/services is too complicated, too variable, or too impossible to pin down.
And this blog article is a continuation of how great they are at creating super valuable, actually educational content about cost for a service that is, quite frankly, kind of challenging to explain and understand without feeling like someone is trying to be wishy-washy.
Product and service problems blog post examples (The Big 5)
You know what your buyers want to avoid more than anything else in this entire world? Buyer's remorse. They don't want to make a big investment in any or products or services, only to have that decision blow up in their face, because they didn't do enough research.
Enter stage left, the urgent need for you to be creating blog post articles about problems with your products and services — and no, there are no industries exempt from this.
When we say you need to write about problems, there are two types of problems we're referring to:
Problems explicitly with a problems, service, or solution; OR
Problems someone might experience through the course of their duties or in relation to whatever problems your products or services might solve.
Let's look at some examples to show you what I mean by these two different categories of problems, and what those articles look like in practice.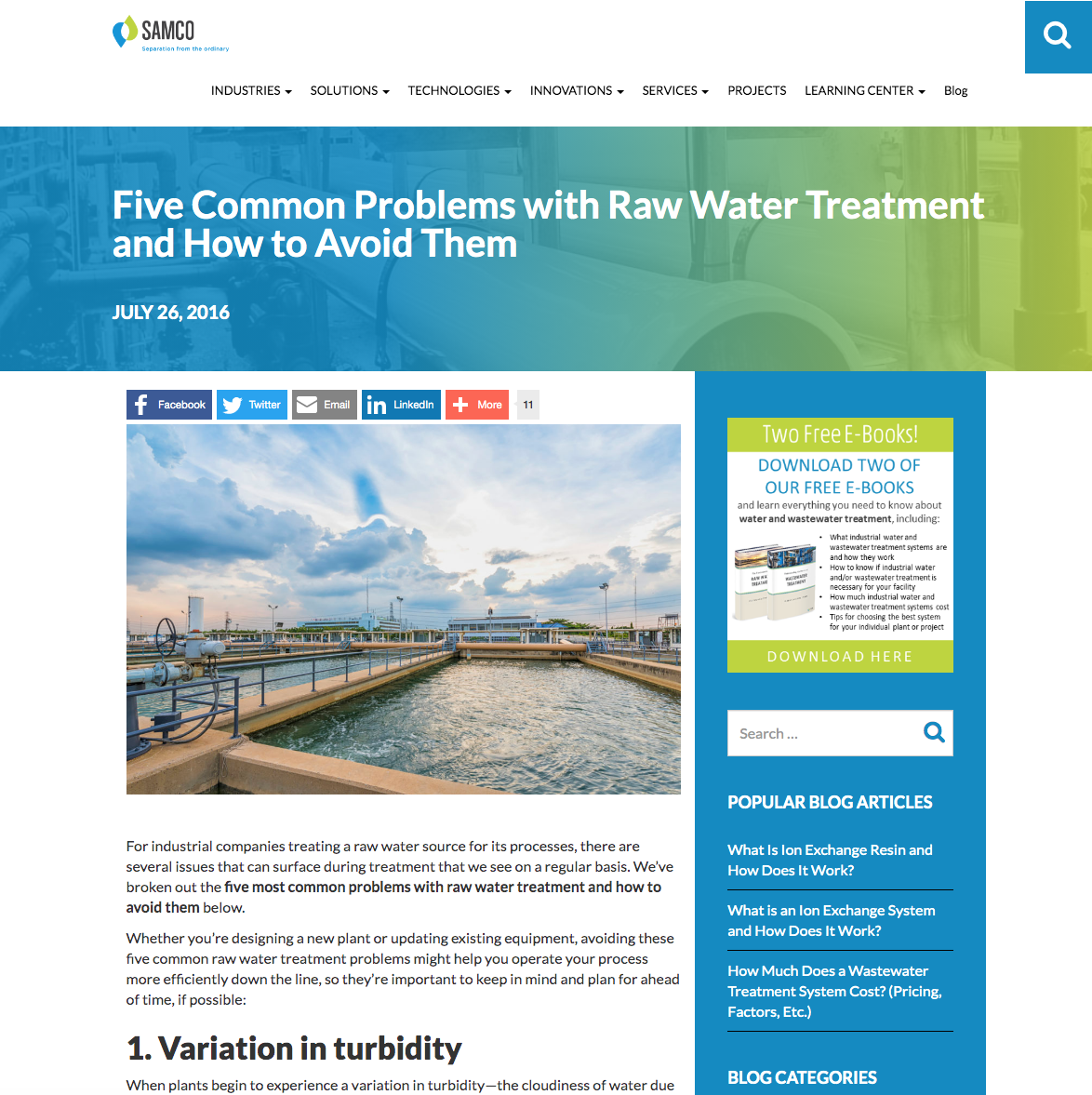 5 Common Problems with Raw Water Treatment and How to Avoid Them (SAMCO)
SAMCO is a B2B company that offers water solutions and technologies to a wide variety of industries including oil and gas, power companies, refineries, and so on. One of their solutions is raw water treatment, so it only made sense that they wrote this article.
The best part? It's purely educational and not a thinly-veiled sales pitch. They go out of their way to empower their audience with information, thus positioning themselves as the most trusted voice in their industry. (Which is, ultimately, how you win business.)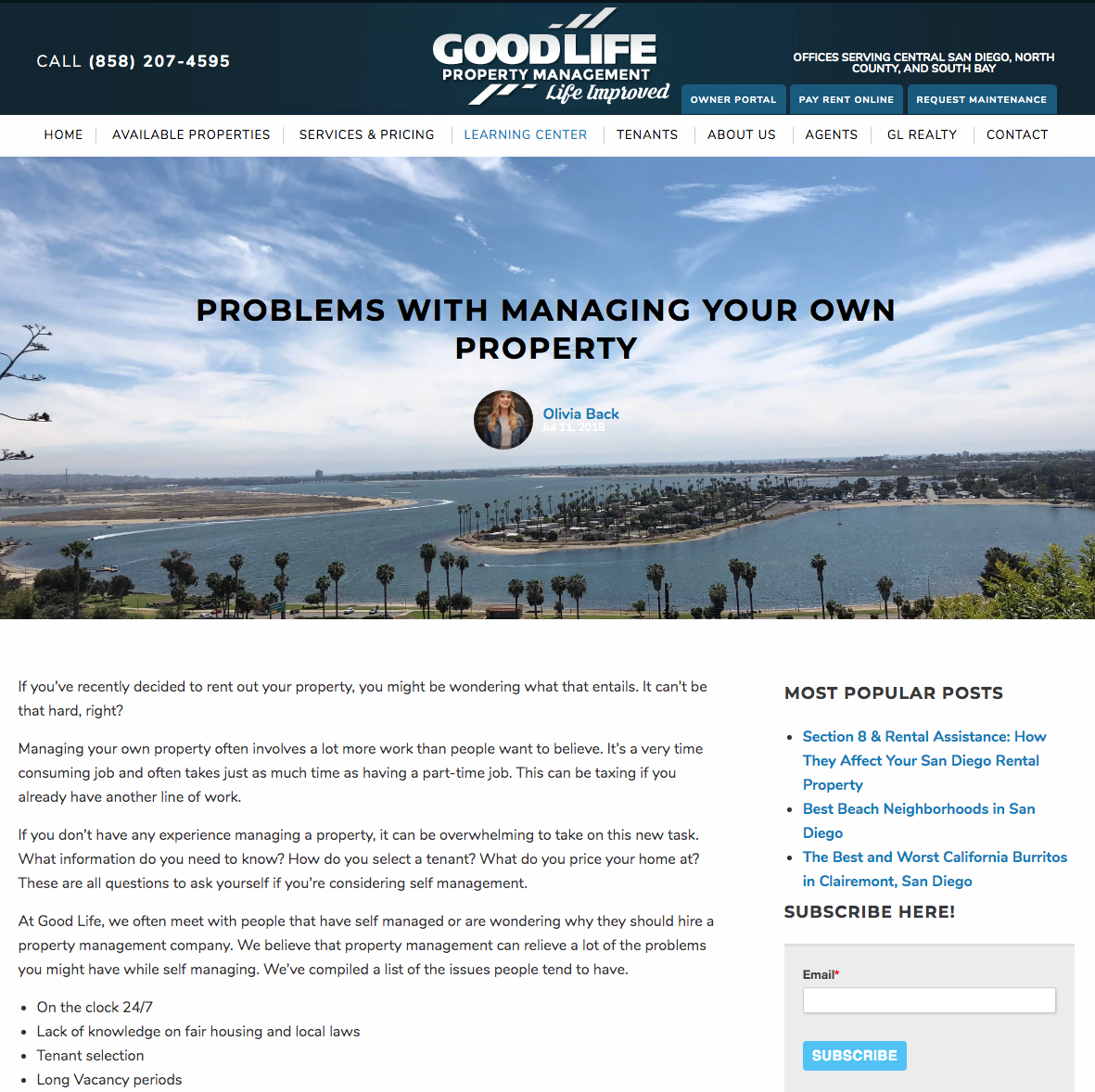 Problems with Managing Your Own Property (Good Life Property Management)
Another great area of problems to explore in your blogging strategy is the types of problems someone might experience in their role, if that role is someone you typically target as a decision-maker — or, at least an influencer in the decision-making process.
It demonstrates you understand their most pressing challenges and concerns in their day-to-day, which is key to winning their trust as a resource.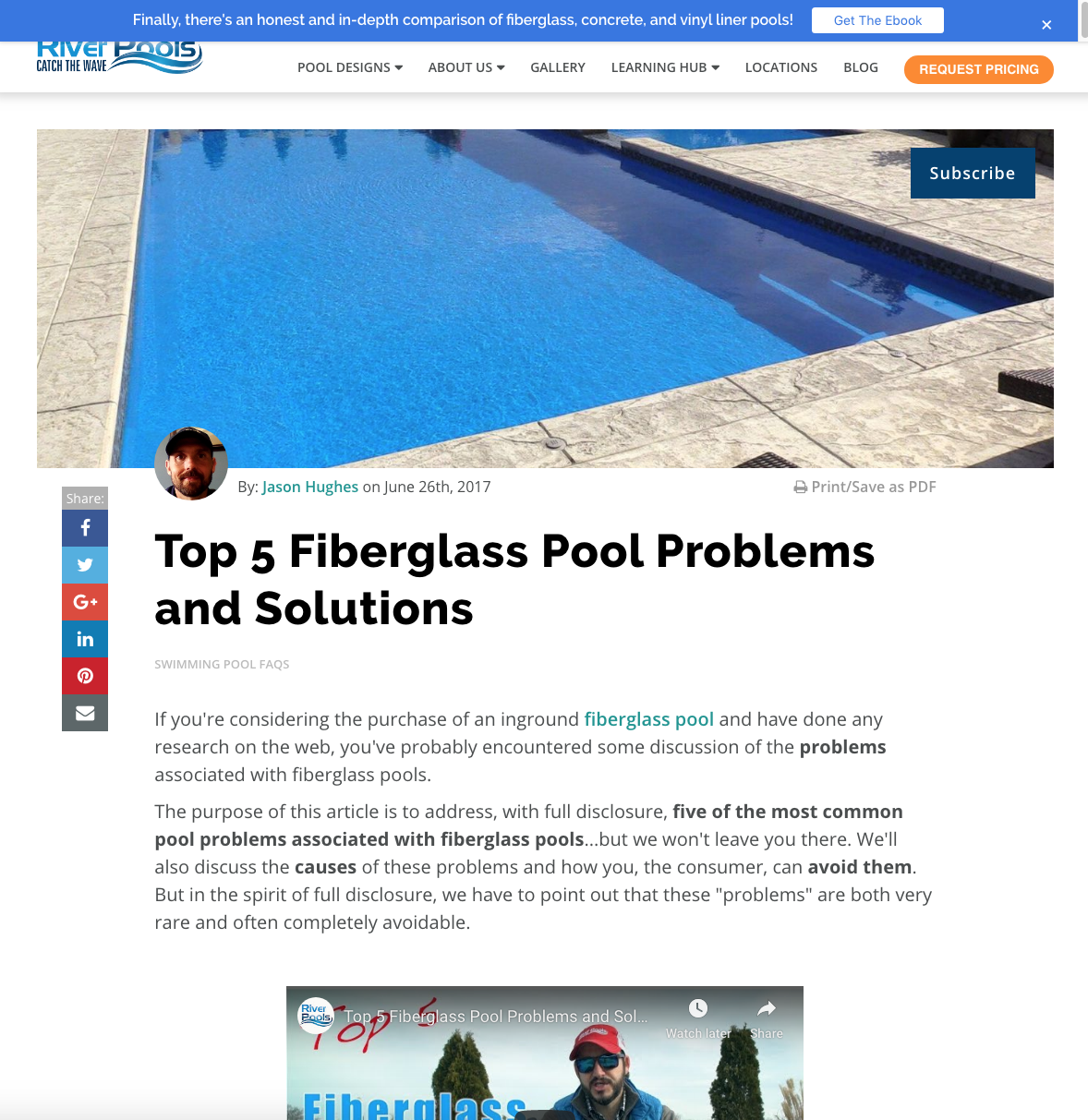 Top 5 Fiberglass Pool Problems and Solutions (River Pools & Spas)
If you sell a specific product or set of products, you need to get completely honest about what problems someone might experience. I know, I know. You don't want to talk about what might go wrong, but the reality is that no single product is perfect. Moreover, not every single potential buyer is the best fit for what you're selling.
With that in mind, check out this River Pools example, where they candidly discuss the most common problems with fiberglass pools — their flagship product. Plus, I love how they included a video.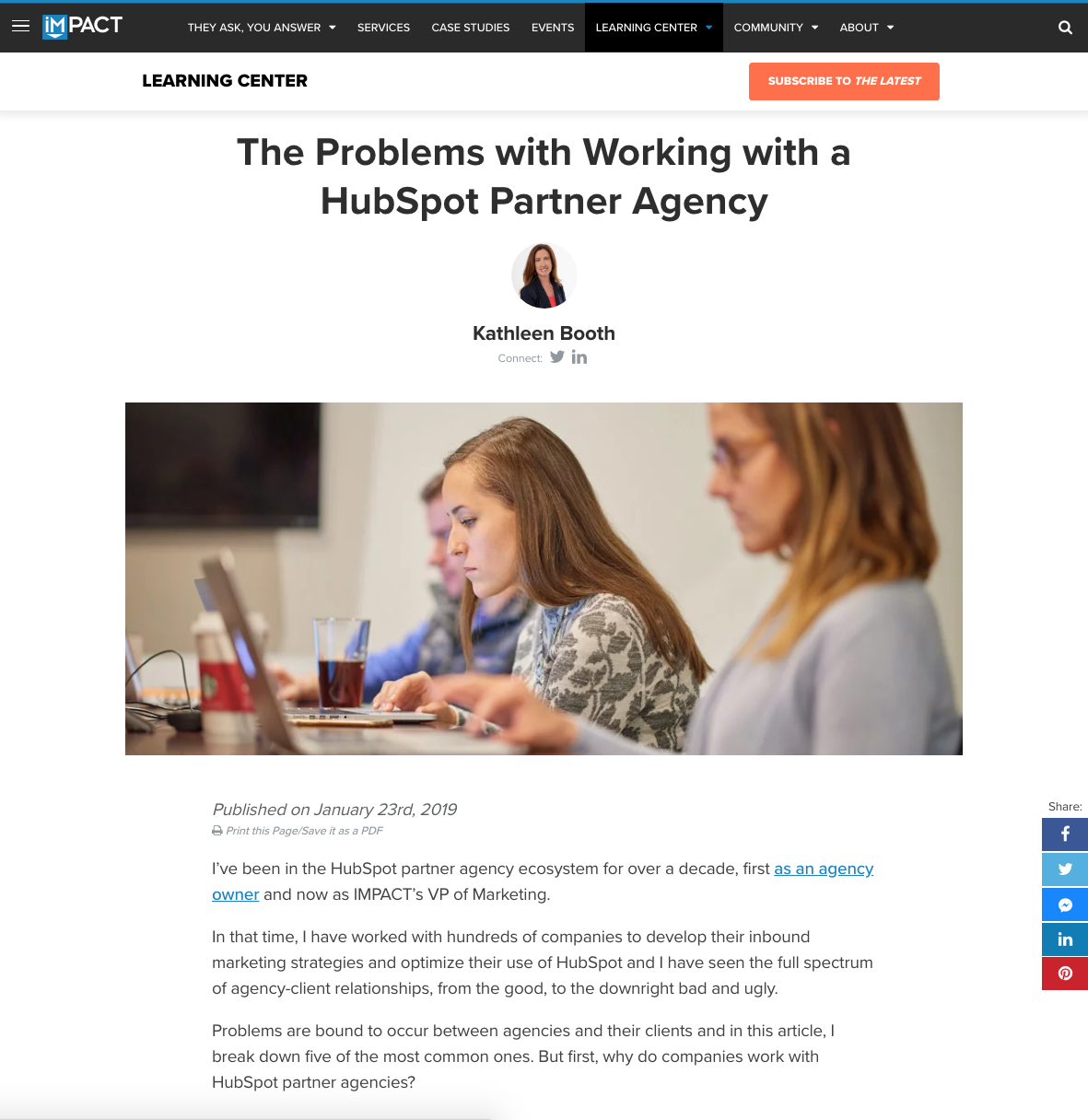 The Problems with Working with a HubSpot Partner Agency (IMPACT)
Products and services aren't the only things that have problems you need to talk about — service providers and vendors (particularly in the B2B space) have problems you need to talk about, as well. Again, you probably don't want to shine a spotlight on your own problems, but it's important that you do.
For example, we're a HubSpot partner agency, but that isn't always the right choice for a company in the market for support with their digital sales and marketing. So, we wrote about it in this article, which is a world-class example of how you can write about your own problems in a way that's candid, informative, and still builds trust with the right-fit customers.
Comparisons blog post examples (The Big 5)
Once a buyer knows what problem they're trying to solve — or, generally, the type of solution they need — they are going to start evaluating their different options, before they pull the trigger on making a choice.
Again, similar to writing blog post articles about problems, comparisons blog post articles help buyers feel as if they're making a more informed decision, so they can avoided that dreaded feeling of buyer's remorse later.
This is especially true since every product or solution on the market in every single industry today is not the right choice for everyone. Every personal individual, family, or business has a unique set of needs and circumstances, which will dictate what the right choice is.
Below you'll find a few different types of comparisons blog post examples to show you how showcase a variety of comparisons in your blog content.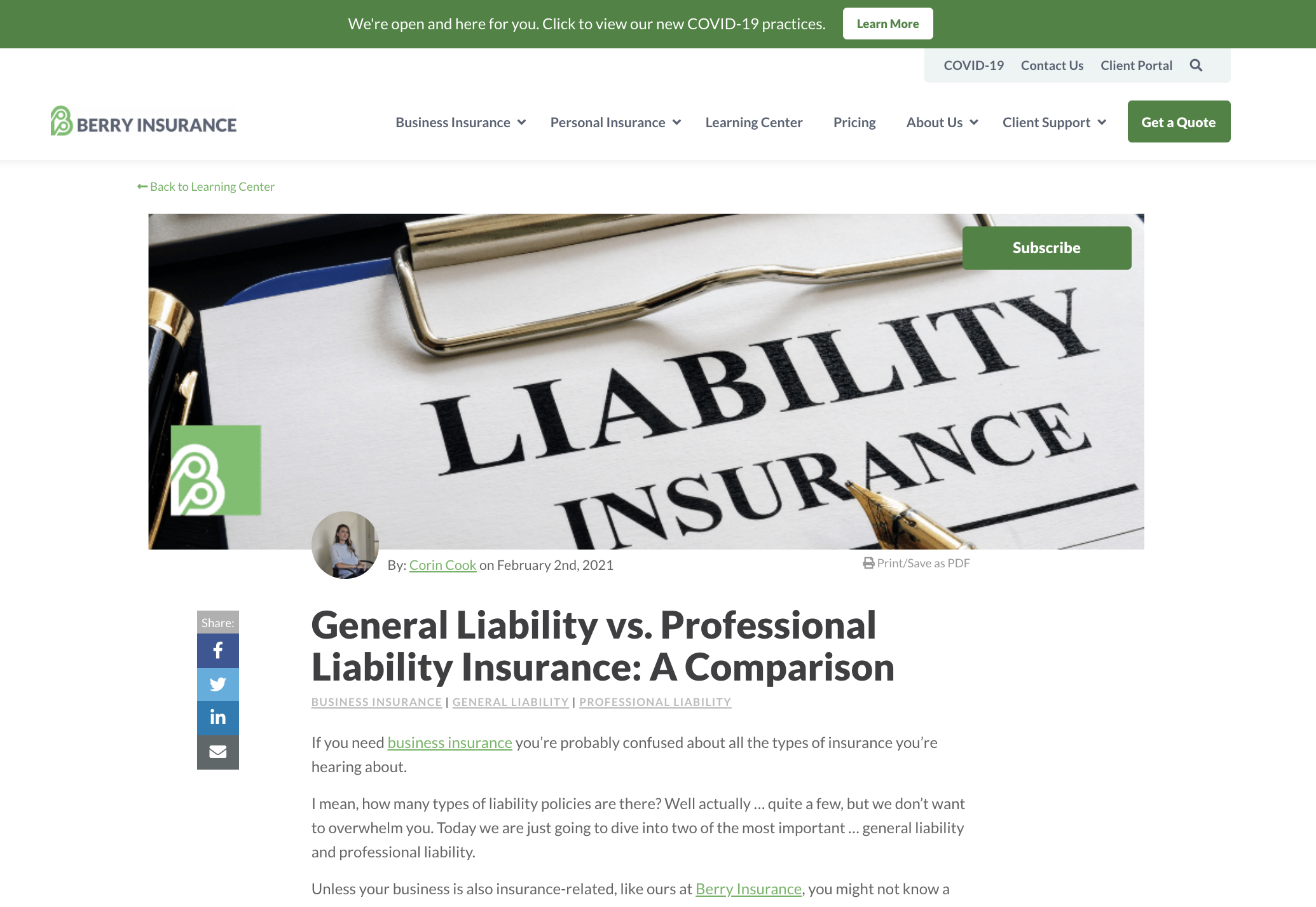 General Liability vs. Professional Liability Insurance: a Comparison
Berry Insurance is back again with another "by the book" (and I mean that in a good way) example of how to nail a comparison article.
My favorite part? This comparison article does a great job of opening up immediately on the pain point their target audience is experiencing — "If you need business insurance you're probably confused about all the types of insurance you're hearing about. I mean, how many types of liability policies are there?" — in a super relatable and human way.
I wish more businesses empowered their content creators to sound like actual, breathing humans instead of Business Voice-Enabled Robots.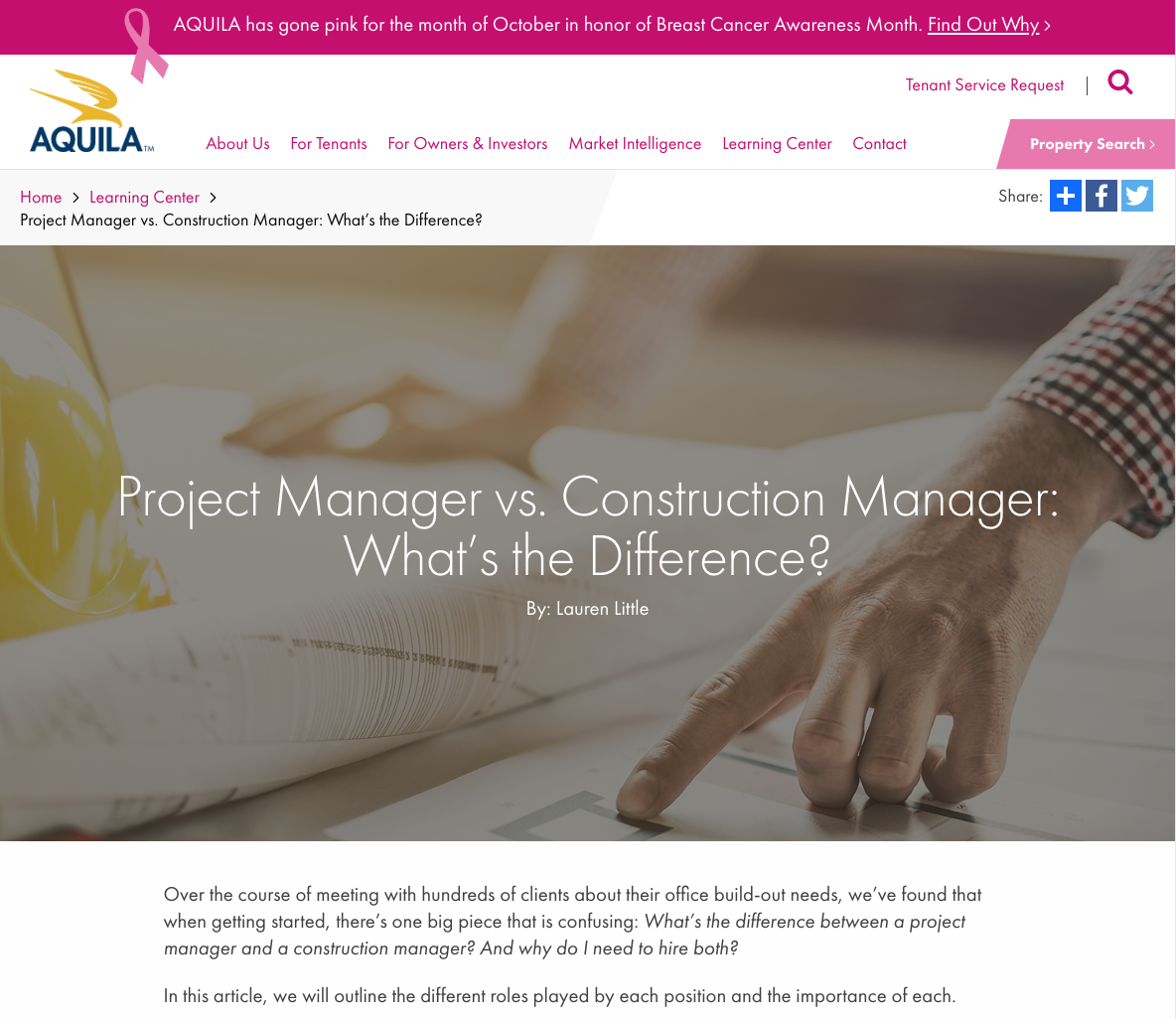 Project Manager vs. Construction Manager: What's the Difference? (Aquila)
Sometimes it's not about comparing product or service A to product or service B. Sometimes, you need to talk about who are the best people you need to hire to get a project done. This fantastic example from Aquila, we're talking about the best fit for an office build-out.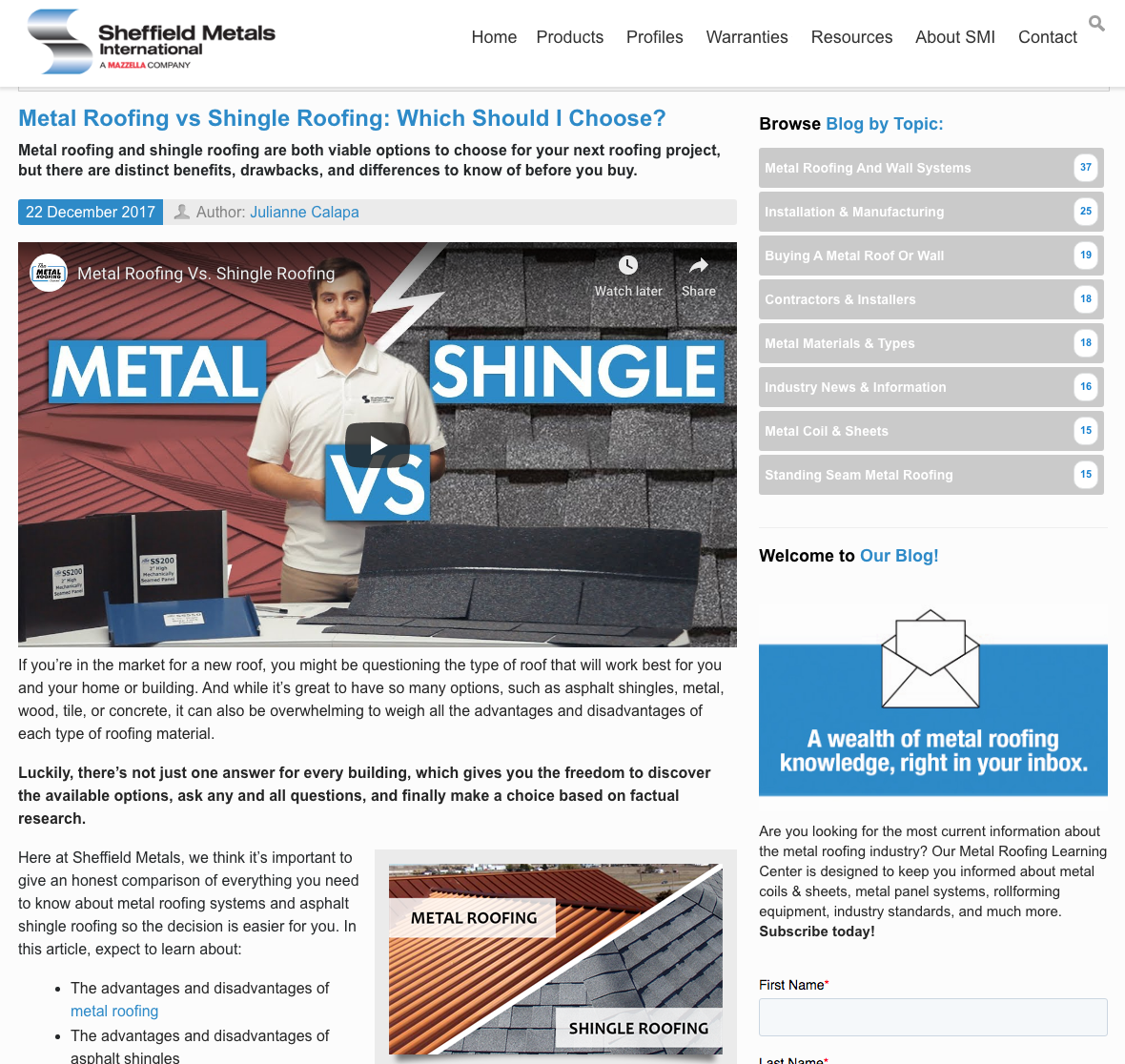 Metal Roofing vs. Shingle Roofing: Which Should I Choose? (Sheffield Metals)
There is so much to love about this expertly crafted, product-based comparisons blog post example from Sheffield Metals. It includes video, the title immediately communicates to the reader, "This article will help you make an informed purchasing decision," and detailed comparisons between the two roofing options across a range of different measures.
The Sheffield Metals crew then took this article over the top by including an entire section on considerations you need to take into account before making any roofing purchase decision — budget, roof design, your HOA or municipality, and more.
WPEngine vs. GoDaddy: Which Is Better for Hosting Your WordPress Website? (IMPACT)
No, we don't sell WPEngine or GoDaddy website hosting for WordPress websites. But it's probably one of the most important decisions a company will make about their business website hosted on WordPress, and they usually don't even realize it. (Short version: The hosting you choose for your WordPress website will drastically impact how well your content shows up in search results.) So, we wrote about it in this detailed comparison article.
Again, while this facilitates a different purchasing decision outside of the services we offer, it showcases our understanding of high-performance websites (for which we offer website strategy and web design services) and our expertise in technical SEO.
🔎 Related: How to write a great problems-based blog article
Reviews and ratings blog post examples (The Big 5)
Candid reviews about products, services, solutions, and so forth must be a part of your content marketing strategy.
Again, because no matter what your industry is (B2B, B2C, e-commerce, etc.), your buyers want to know the good, the bad, and the ugly — especially the ugly — of what they're getting into before they make a purchase.
If you think you're exempt from writing reviews articles, remember the last example from the comparisons category, in which we wrote about WPEngine vs. GoDaddy for WordPress website hosting. We don't sell website hosting, but it a topic very closely connected to services we do provide to clients.
Now, let's get to the examples...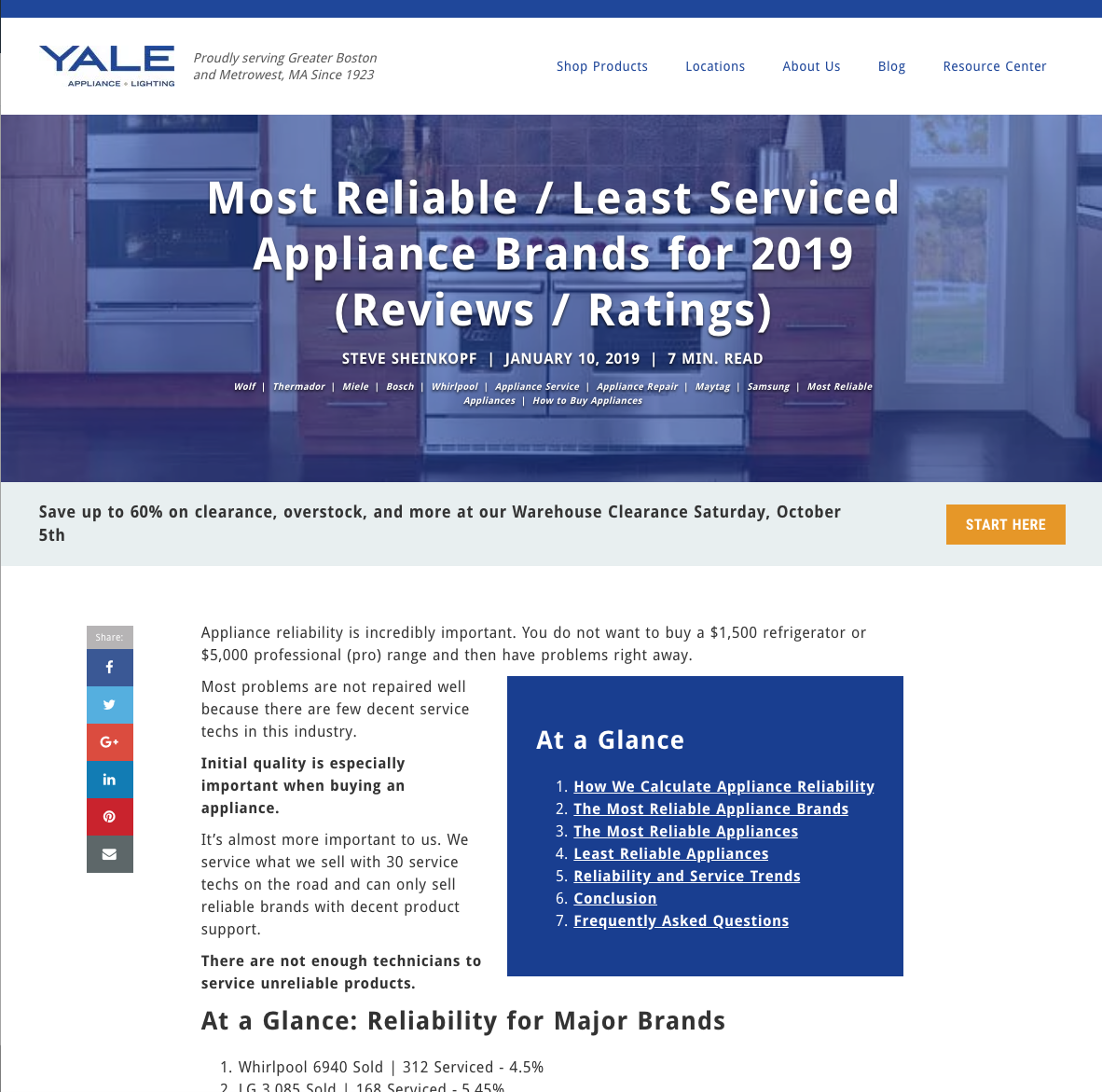 Most Reliable/Least Serviced Appliance Brands for 2019 (Yale Appliance)
I love this blog post example for reviews and ratings topics from Yale Appliance, because it (a) showcases how to do this style of blog post well, (b) clearly demonstrates why they've seen the level of success they have with content marketing, and (c) it outranks content from industry giants like Whirlpool, GE, and so on. That's pretty amazing for a plucky Boston-based company.
(Also, iIf you're looking for a real-world case study of how successful a company can be with the right content marketing and blogging strategy, look no further than Yale Appliance.)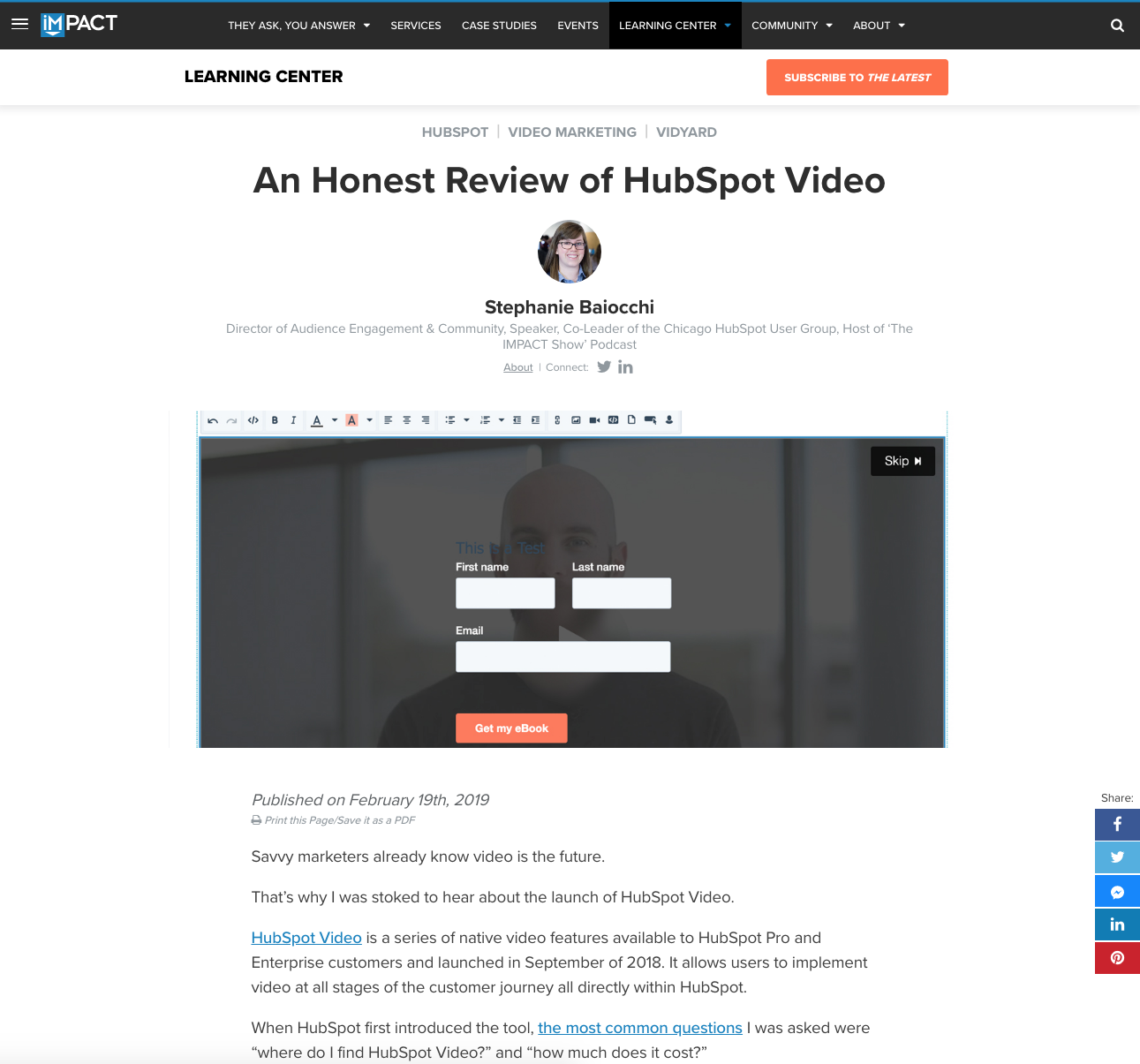 An Honest Review of HubSpot Video (IMPACT)
We're not HubSpot and HubSpot Video is not our product. But we're a HubSpot partner agency, and our clients look to us for HubSpot training and expertise. So, we go out of our way to review HubSpot products for our audience. But we also publish reviews on relevant books, SEO tools, website platforms, and more.
That's how we establish ourselves as the most trusted voice in the digital sales and marketing space. So, it's not just about what you explicitly sell or provide — think outside the box and be that go-to educational resource for everything that matters to your target buyers.
Best-in-class/best of blog post examples (The Big 5)
A lot like reviews and ratings-based blog posts, your audience is also going to be looking at content that tells them what the "best" of something is. Best tools, best vendors or providers in a geographic area, best and so on.
Basically, they need you to do the heavy-lifting for them.
What are the best (ha!) "best of" blog post examples? I'm glad you asked...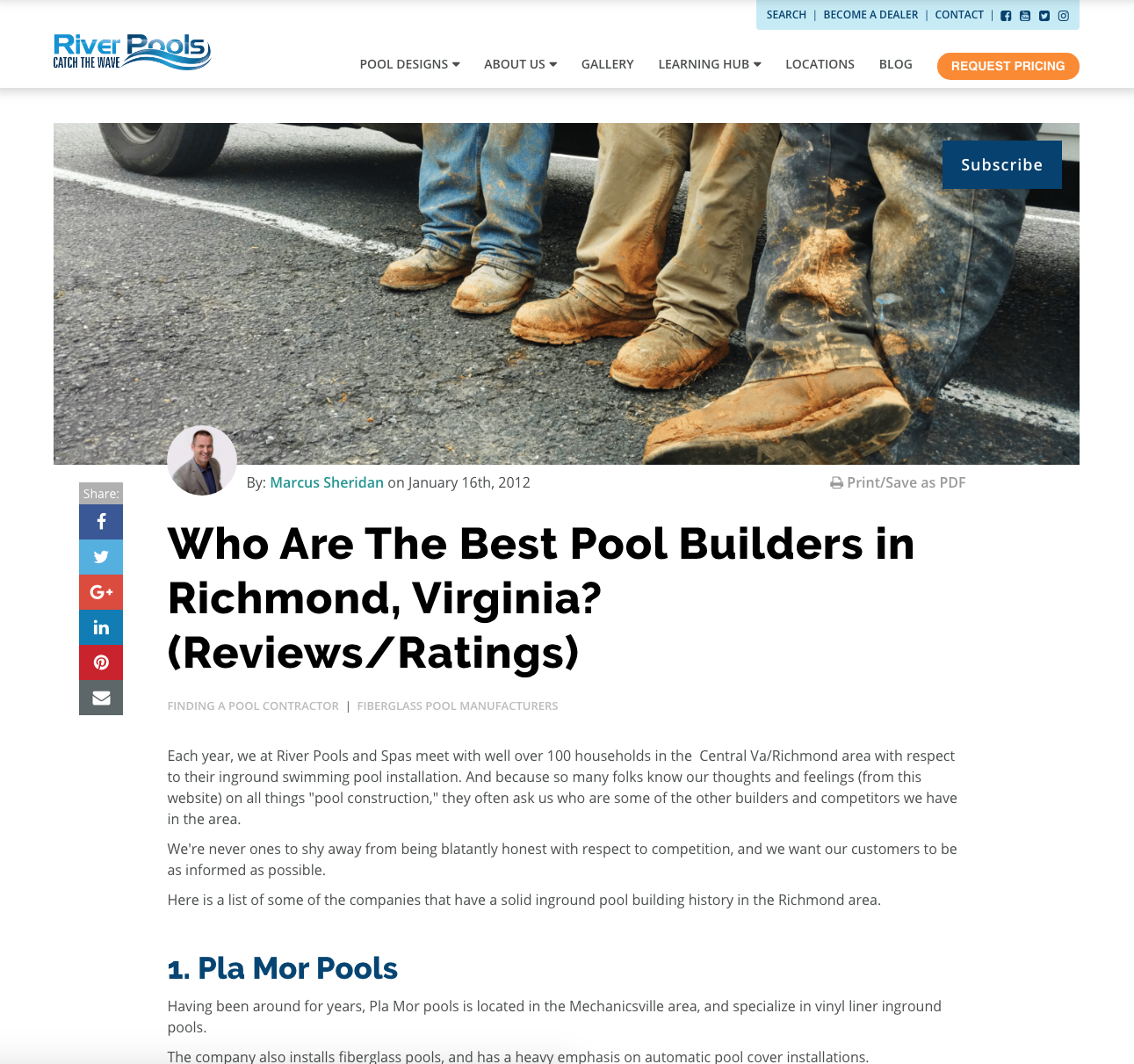 Who Are the Best Pool Builders in Richmond, Virginia? (River Pools & Spas)
The key to writing a "best of" list where you're dying to put yourself on it is to not put yourself on your own list under any circumstances. It will immediately erode your credibility with your readers. In their eyes, who are you to call yourself the best at what you do, right? You're biased toward yourself and your own interests.
Here's the funny thing, though — and why I wanted to share this example. Even if you write an entire article where you don't list yourself and then enumerate all of the virtues of your competitors, you need to remember one thing. Your readers are on YOUR WEBSITE and not your competitors' websites.
In fact, Marcus Sheridan (who wrote this article in 2012 and has kept it updated since then) noted that they had a prospect who chose them over a competitor because they were so honest and forthcoming about their competitors — and that sent a positive message to that particular buyer, and she gave River Pools her business instead.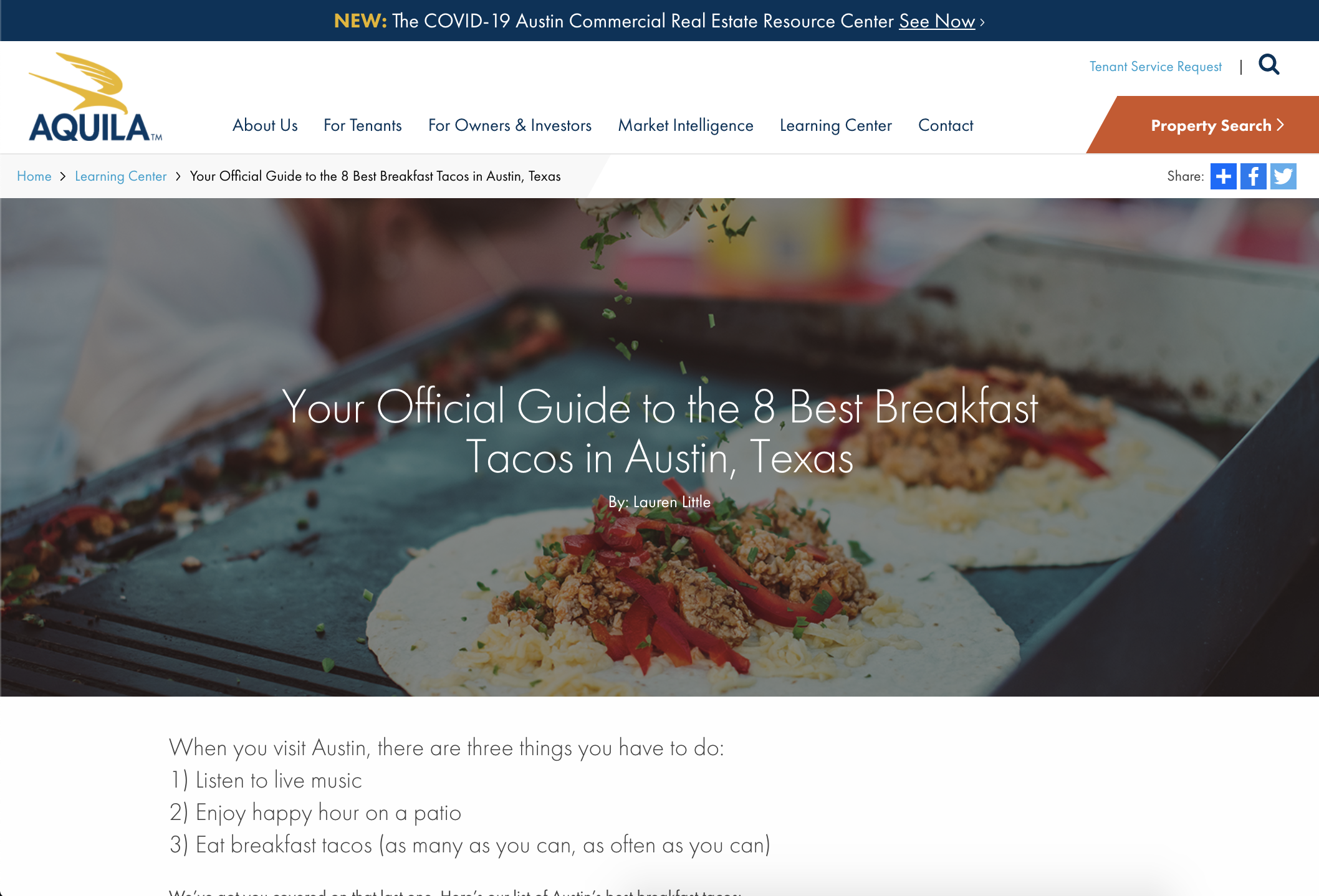 Your Official Guide to the Best 8 Breakfast Tacos in Austin, Texas (Aquila)
Aquila Commercial does not sell breakfast tacos in Austin, Texas. But they do "own" the Austin, Texas, market for real estate (for commercial tenants and landlords), which means they need to demonstrate their knowledge of businesses in the area.
It's a wonderful example of how you can get creative with what you feature in your content marketing strategy — think outside the box; what other topics do your potential buyers care about?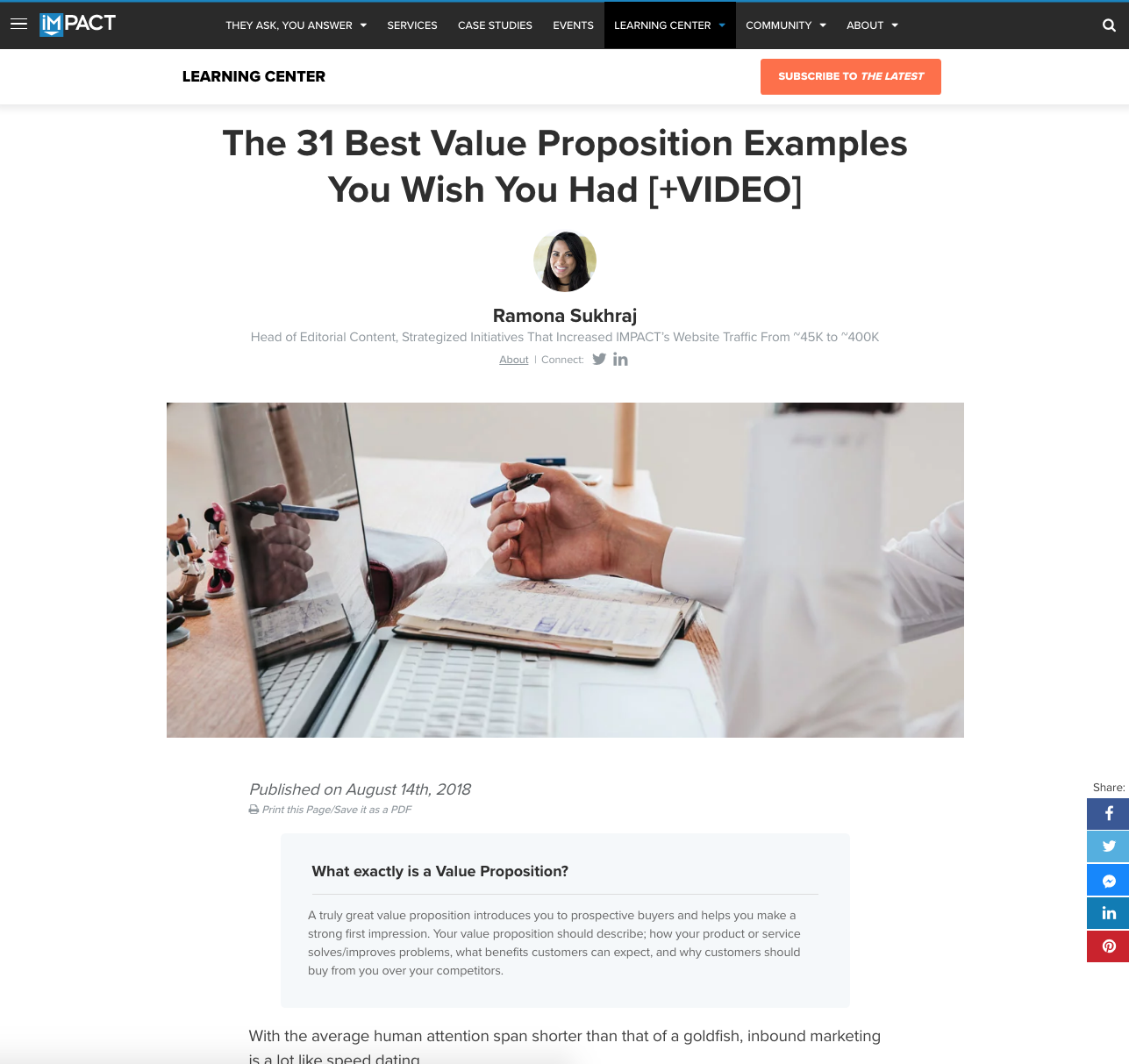 The 31 Best Value Proposition Examples You Wish You Had (IMPACT)
"Best-in-class" and "best of" lists also include a common type of blog article — blog posts that showcase world-class examples of something. Visual example-based content is very powerful, as your readers can learn so much from them and get inspired.
(Heck, you're on one of those articles right now. I didn't just choose random examples of blog posts — I hand-picked the best and most educational examples of blog posts for you to learn from.)
"How to" blog post examples
Blog articles that teach someone how to do something are invaluable, but they are often executed so poorly.
In my role, the most common problems I see with "how to" blog posts are including too little detail (or too much), not providing visuals when they're needed or would be super helpful to the audience, and using too much industry jargon, rather than writing to the knowledge level of the audience.
The following "how to" blog post examples are a must-see for any industry. Even if the following topics are completely unrelated to what you do or provide, each of these embody the universal principles every "how to" blog article should embrace.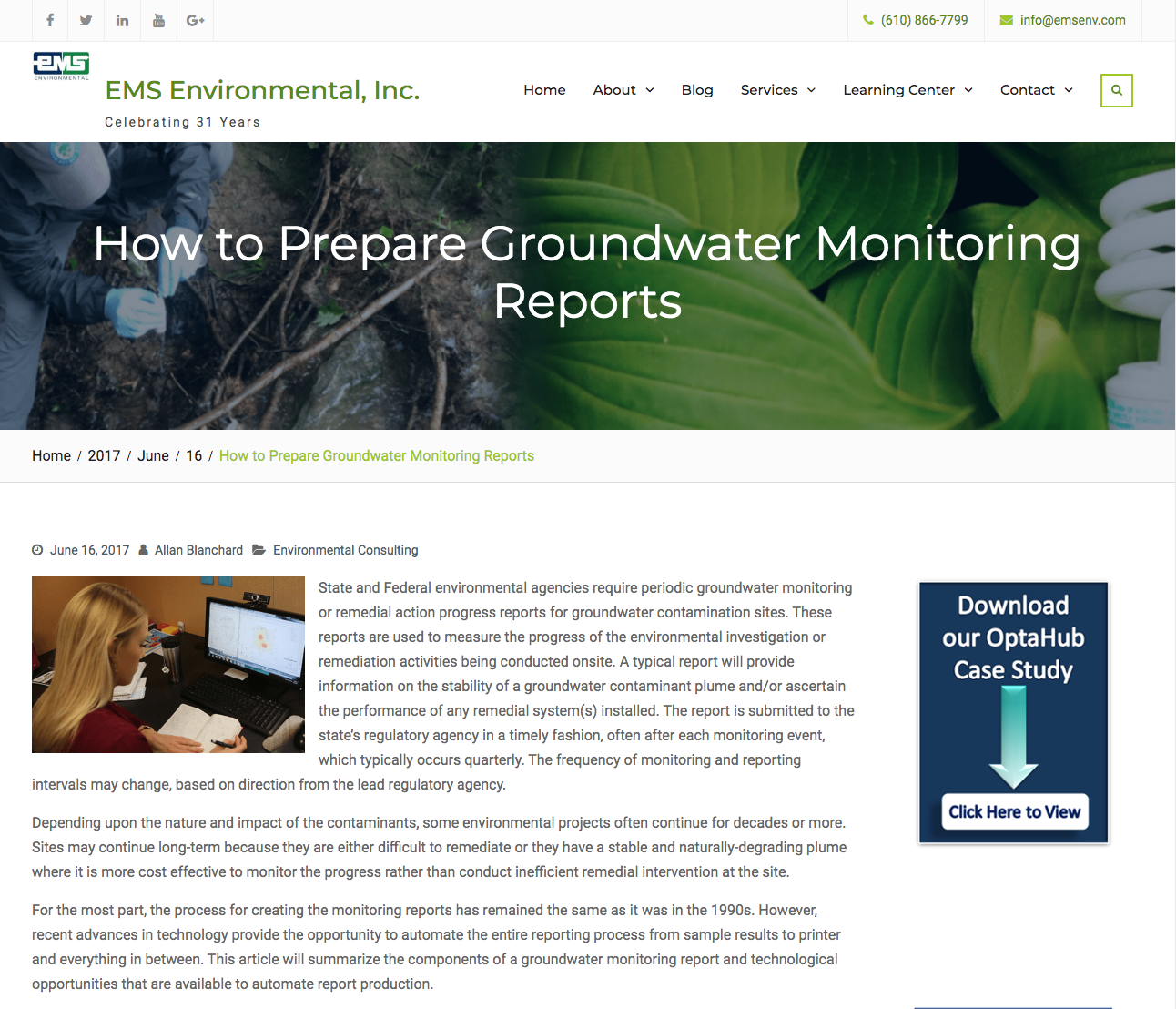 How to Prepare Groundwater Monitoring Reports (EMS Environmental Inc.)
I like this "how to" blog post because it talks about a process that has apparently changed quite a bit in recent decades due to technological advances — specifically with automation. It also includes visuals to provide context and break up some fairly dense content, as well as different types of automation solutions someone could consider to create these reports.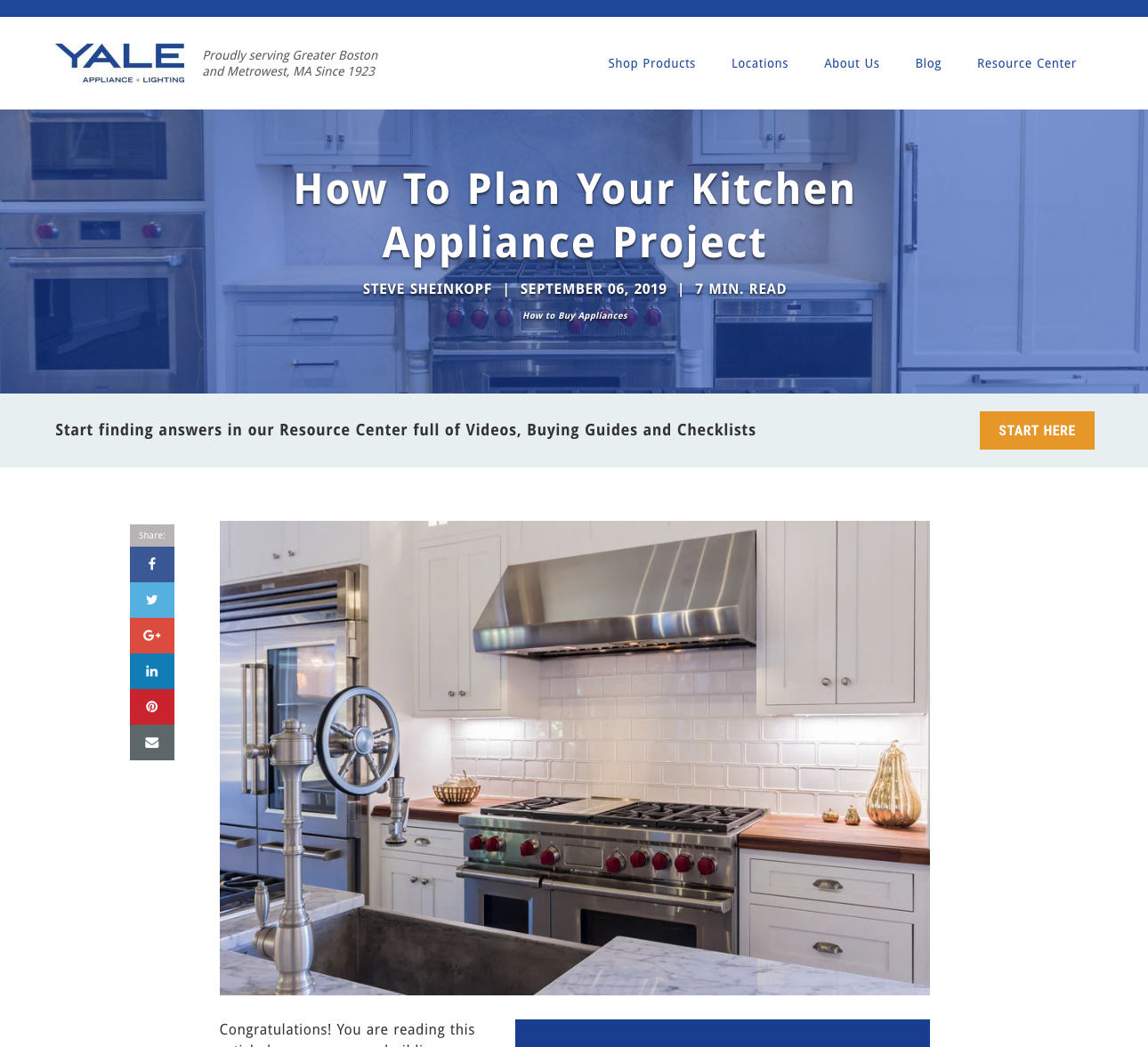 How to Plan Your Kitchen Appliance Project (Yale Appliance)
As anyone who owns a home knows, managing any sort of home project is always more complex than it seems — and kitchen appliances are no exemption. This article from Yale Appliance takes buyers through the entire process, from choosing a contractor to personalizing your space, with diagrams, expert tips, and more.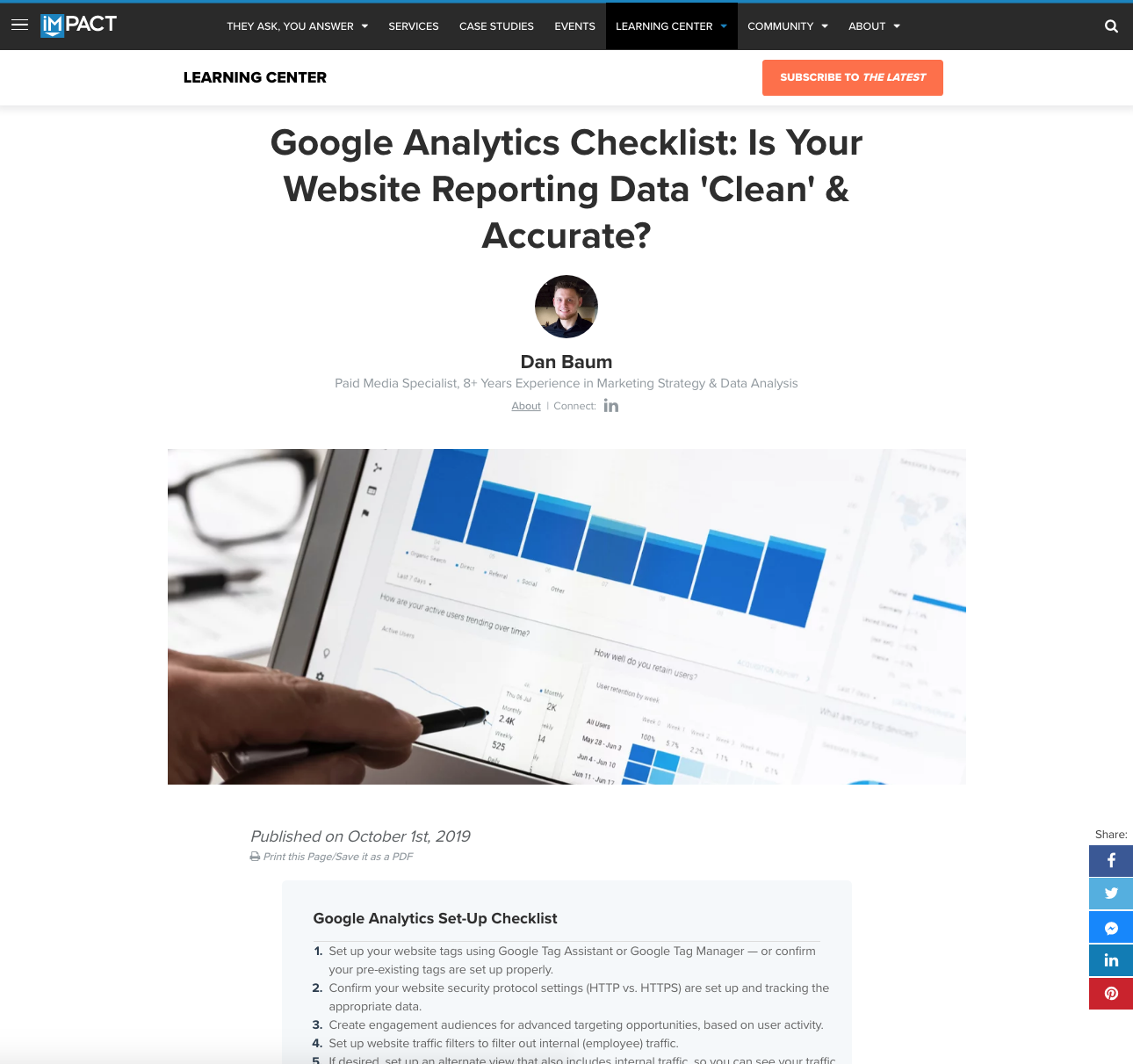 Google Analytics Checklist: Is Your Website Data 'Clean' & Accurate? (IMPACT)
On its face, this may not look like a "how to" blog post example, but it is. In fact, if you write any sort of checklist-based article, you need to treat it as such, because you're teaching someone "how to" do something, usually with a set of steps in a prescribed order.
This example not only explains how to do set up your Google Analytics for your website, it also includes expert analysis on why this process is important, best practices for initial set up, and so on. In fact, it was so good, Google shared the article on their social channels. (If that's not a ringing endorsement, I don't know what is.)
Infographic blog post examples
Infographics may not be as popular for blogging strategies as they once were, but they can still be a powerful traffic-driver for your content marketing. But only if you do it correctly.
There are two types of infographic articles:
A blog post highlighting an infographic from a different source.
A blog post highlighting an infographic you created and want others to share.
Here is an example of each type: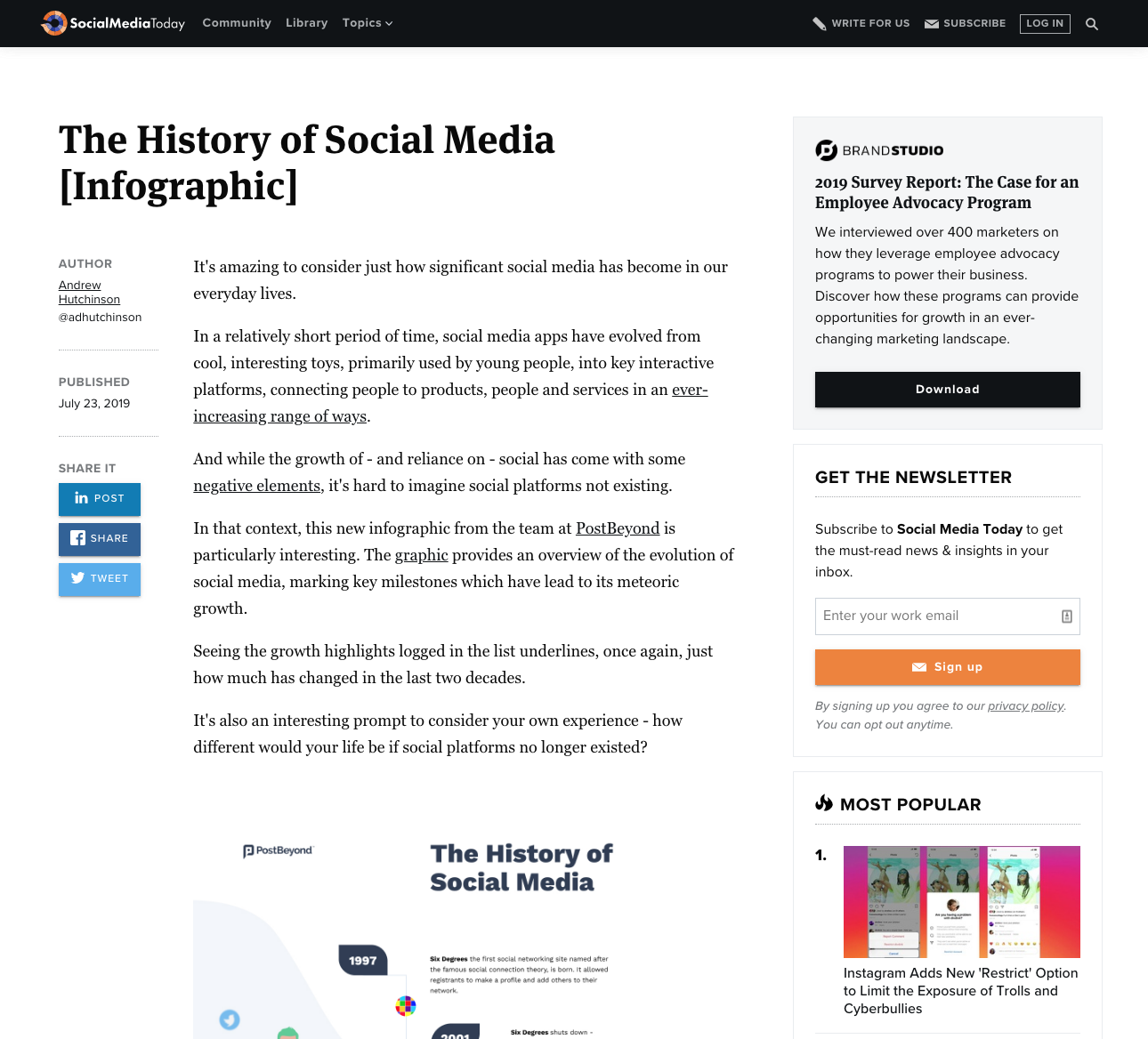 The History of Social Media [Infographic] (Social Media Today)
The above example from Social Media Today is a textbook example of creating an infographic article from a source outside of our organization.
Whenever you're publishing an infographic you didn't create, you need to do a few things — include a keyword-optimized title that include "[Infographic]" in it, write an introduction that provides detailed context for what you're about to share (along with a link to the original source), the infographic itself, and then (again) proper attribution to the original source of the infographic.
In this style of blog post, there is no such thing as sourcing the original creator too much; improper or unclear attribution can lead to lots of problems. In fact, don't assume that someone is OK with you sharing their infographic. If you cannot find the original source of an infographic, where they've clearly stated they're OK with others sharing their work (and provide instructions to do so), you should reach out to the original creator before you publish yours.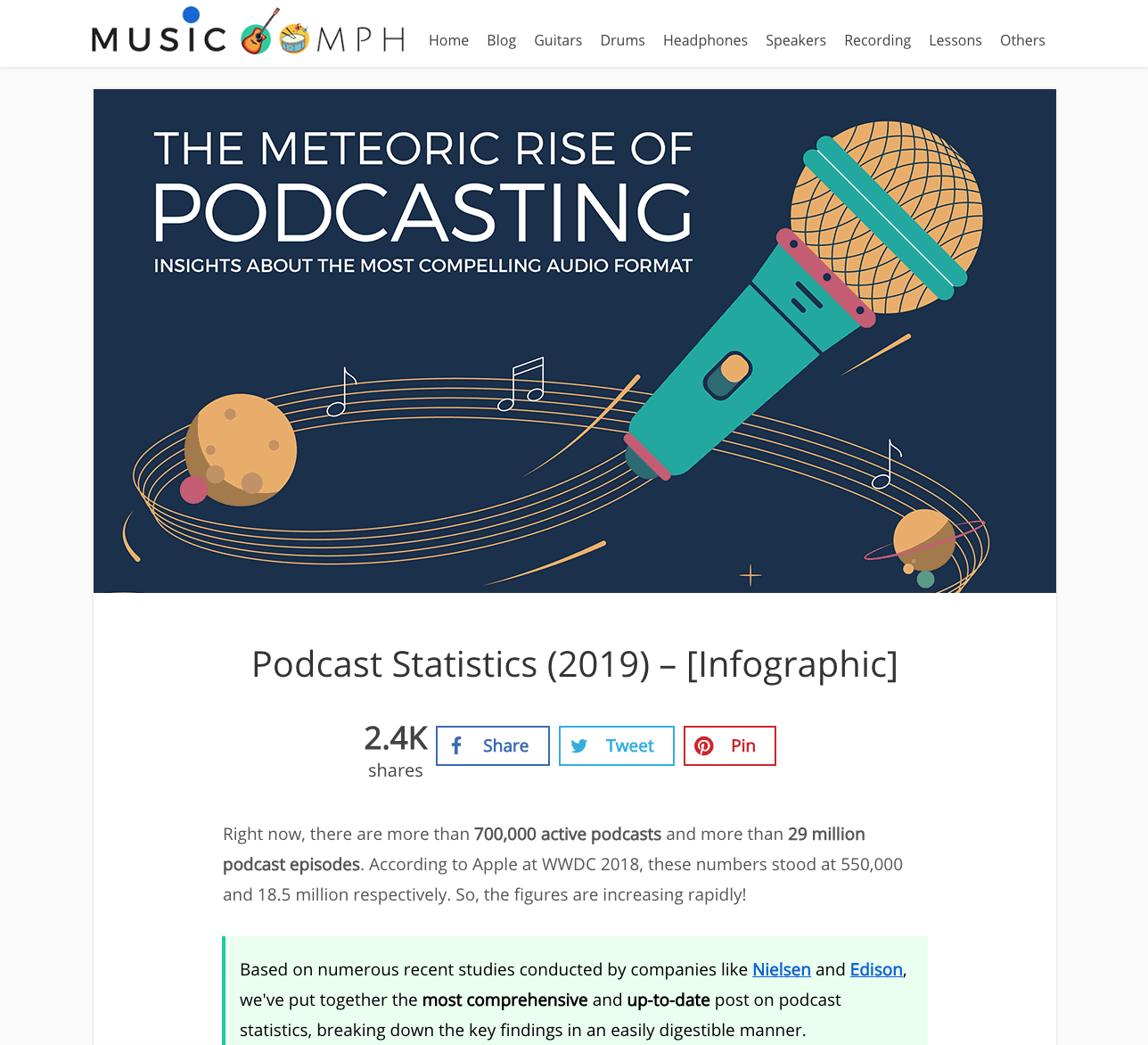 Podcast Statistics (2019) - [Infographic] (MusicOomph)
If you want someone to find your infographic and share it with the world, there are a few things you need to do that this example from MusicOomph does flawlessly:
Optimize your title around a broad, high-volume keyword (even if the title in the infographic itself is a little more exciting), along with "[Infographic]" at the end.
Include embed code, so people can share your infographic easily — you can put attribution links in here automatically, so someone doesn't accidentally forget to link back to your original content.
Provide context and content — highlighting some of the powerful statistics showcased in the infographic, for example — in text. Some people might just want to read the content but, more importantly, Google cannot read text on images. If you want your infographic to rank well in search engines for others to find and share, you need to have content on the page beyond the image and a brief introduction.
Bottom line, if you're creating a blog post that shares your infographic, you need to focus on optimizing it for search so it gets found online and making it easy for others to share your infographic once they find it.
News reaction blog post examples
Depending on your industry, news reaction (or even newsjacking) blog articles could be a profitable addition to your content marketing and blogging strategy.
In fact, at IMPACT, we have an entire portion of our content strategy devoted to industry news and updates that provide context and actionable takeaways for top digital sales and marketing news stories. (Staying on top of what's happening in our industry is a big challenge for business leaders and marketers alike.)
Quite frankly, a lot of companies are failing to capitalize on industry news as a blogging opportunity. In fact, most only publish "news" that pertains to company announcements that are really just press releases.
But if you're a business like ours, where you want potential buyers and clients to view you as a strategic partner with cutting-edge expertise in a given space, here are a few examples of ours that will (hopefully) inspire you to diversify the content you're creating.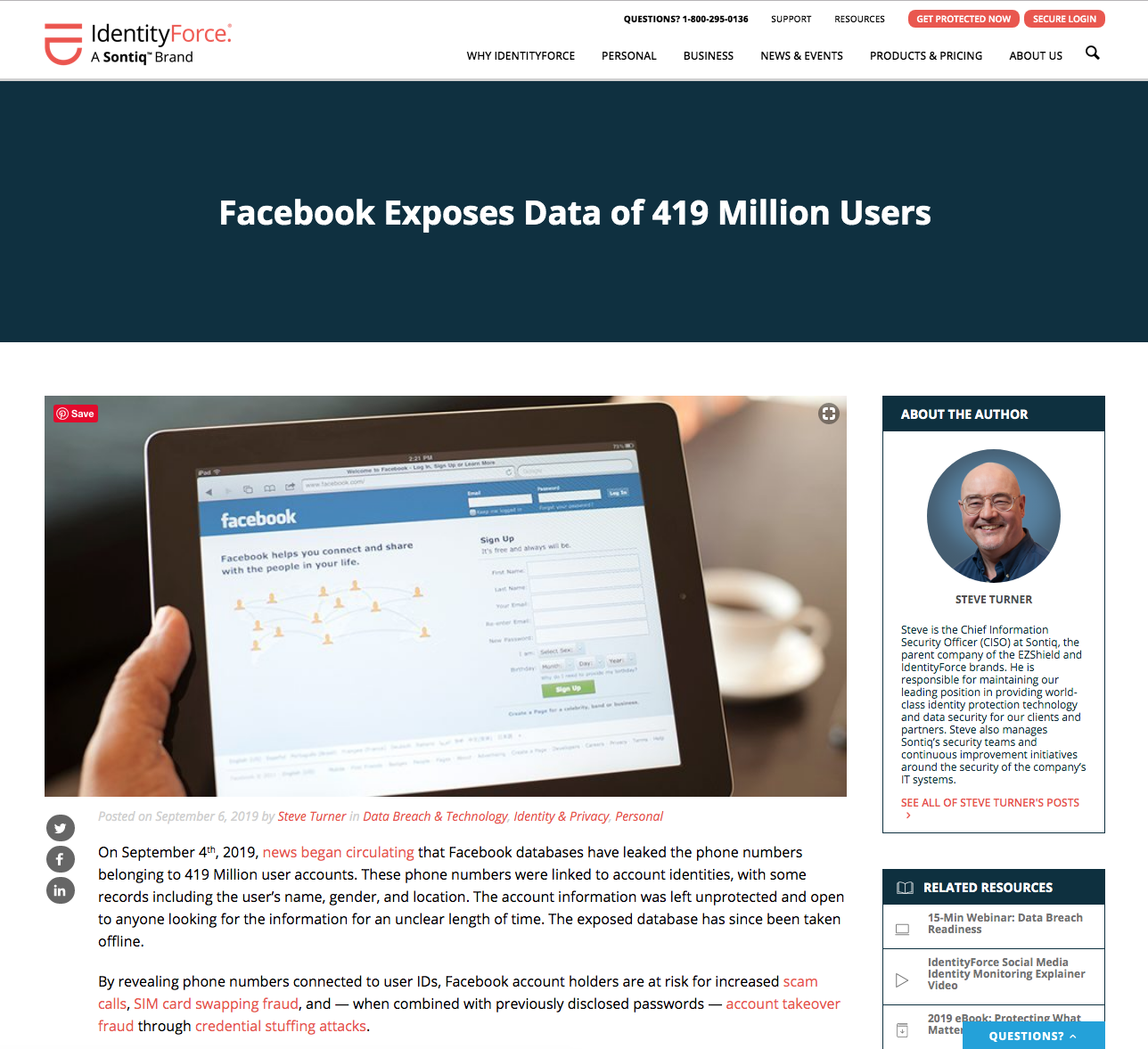 Facebook Exposes Data of 419 Million Users (IdentityForce)
I love this example, because it's well-sourced, gets to the point of what people need to know, and then provides resources (theirs and others) to help readers take action if they're impacted by the breach.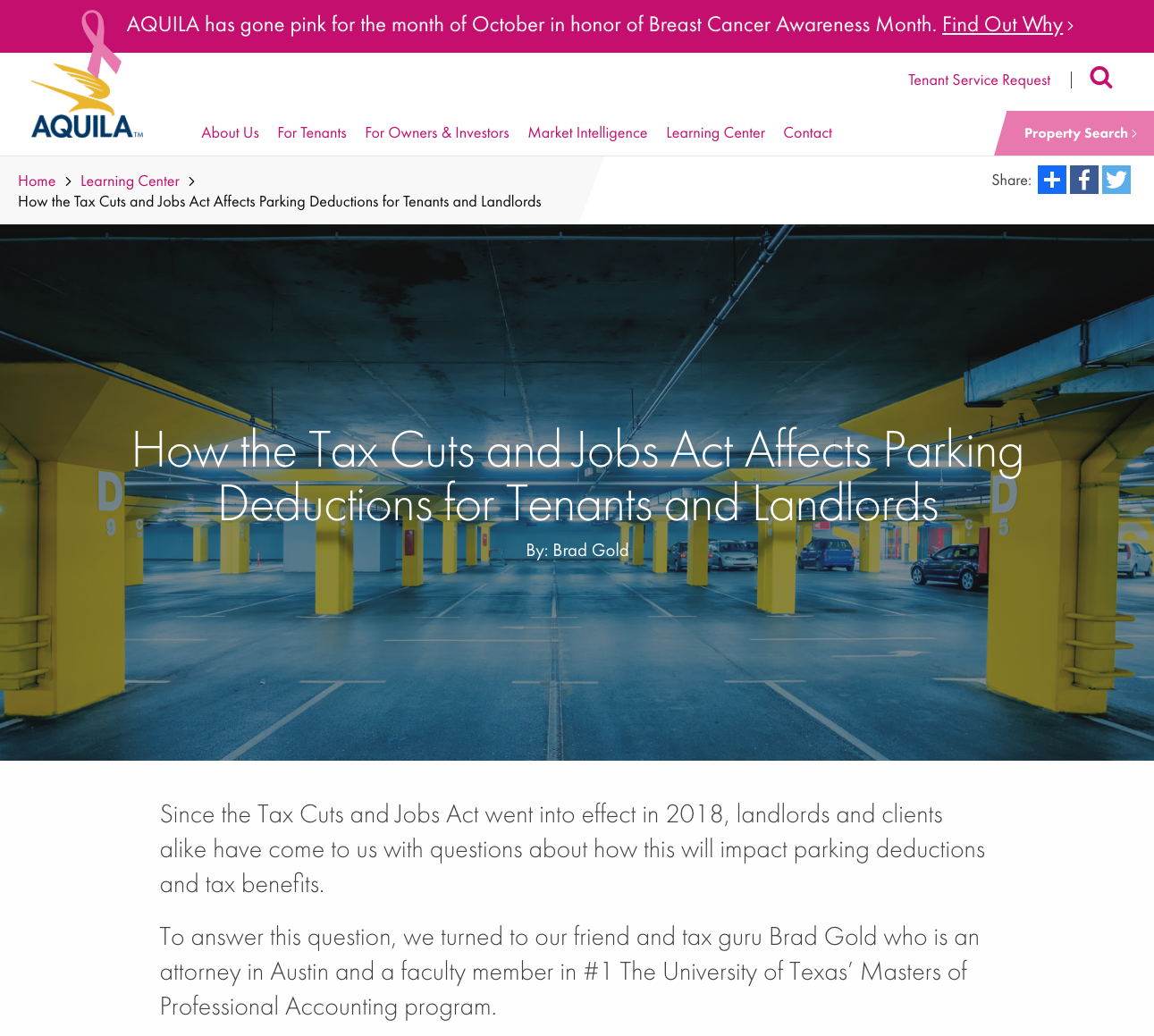 How the Tax Cuts and Jobs Act Affects Parking Deductions for Tenants and Landlords (Aquila)
Aquila does a great job in this article of providing context to a new piece of legislation that went into effect, impacting their primary audience groups — tenants and landlords. Often when something happens that's newsworthy in an industry, your audience isn't looking for basic news reporting. They want context and takeaways that enables decision-making, which is exactly what you'll find in this example.
The Rise and Fall of Nacho Analytics: Important Lessons for Site Owners (IMPACT)
When Nacho Analytics — an extremely powerful competitive analysis tool for digital marketers — abruptly shut down this past August, folks in our industry were left with a lot of questions. Our small but mighty digital "beat reporting" operation did a fantastic job here of providing detailed background and analysis on what happened (and why), as well as what lessons digital marketers need to take from the story.
"I want to learn how to make more money with our business' blog!"
Oh, you want more, do you? I don't blame you. Once you get started creating content that will actually make money for your company... well, "it's a helluva drug."
So, here's what you need to do:
If you have questions, you can find me in the content managers board on IMPACT+. Until then, happy blogging!
Free Assessment:
How does your inbound marketing measure up?
Take this free, 5-minute assessment and learn what you can start doing today to boost traffic, leads, and sales.
Get Started
Free Assessment:
How does your inbound marketing measure up?
Take this free, 5-minute assessment and learn what you can start doing today to boost traffic, leads, and sales.
Published on February 8, 2021