Getting Started With IMPACT+: The First 5 Things To Do With Your Membership
Congratulations; you've signed up for IMPACT+! Improve your inbound sales and marketing with these important first steps.
IMPACT has taught hundreds of content marketers and business owners how to grow traffic, leads, and sales with inbound marketing and They Ask, You Answer. And when businesses come to us for help, the grievance we hear most is, "We know inbound marketing and They Ask, You Answer are the solutions we need, but we aren't sure how to do them right or where to start."
If this is something your team is experiencing, know that it's completely normal to feel lost when implementing inbound properly; even seasoned marketers need guidance here or there.
But no matter the reason you need a better inbound marketing solution, your IMPACT+ membership, whether Free or Pro, is just the tool you need to stop spinning your wheels and make inbound marketing work.
In this article, we're covering everything you need to know about starting your inbound marketing and They Ask, You Answer journey using IMPACT+, including:
The benefits of IMPACT+ membership for your business.
Five steps to take once you sign up for IMPACT+.
Ready to kick off an exciting learning opportunity with your IMPACT+ membership and finally succeed with inbound?
Here's what to know about getting started.
What are the main benefits of IMPACT+ membership for your business?
While we coach companies in inbound marketing and They Ask, You Answer hands-on, some businesses prefer to do it on their own.
One IMPACT+ benefit for your business is that it can be used:
As a training supplement for your

IMPACT-led coaching services

.
As a resource for self-implementing inbound marketing and They Ask, You Answer.
The platform will also help your marketing and sales teams access:
Myriad learning resources for guidance on how to master inbound marketing and They Ask, You Answer, including:

Dozens of courses that teach the fundamentals.
On-demand keynotes from trusted inbound marketing professionals.
Tools and scorecards to track your team's progress.

A community of over 7,500 practitioners that understand what you're going through and can answer your questions and hold your team accountable.
IMPACT+ brings professionals together and gets everyone focused and aligned around the same goals: growing your business by implementing inbound marketing the right way.
Once you sign up for IMPACT+, what should you do first?
After signing up for IMPACT+, take the following steps to get the most out of your membership.
1. Take the 'Getting Started With They Ask, You Answer' Learning Path
When you access IMPACT+, you'll see on the left-hand side "Courses & Lessons" or the "Learn" tab at the top. Once you click either of these, one of the first options you'll see is "Learning Paths."
This section uses curated content to help your team dive deeper into a particular topic. For example, you can learn how to generate powerful video content or build your virtual selling strategy.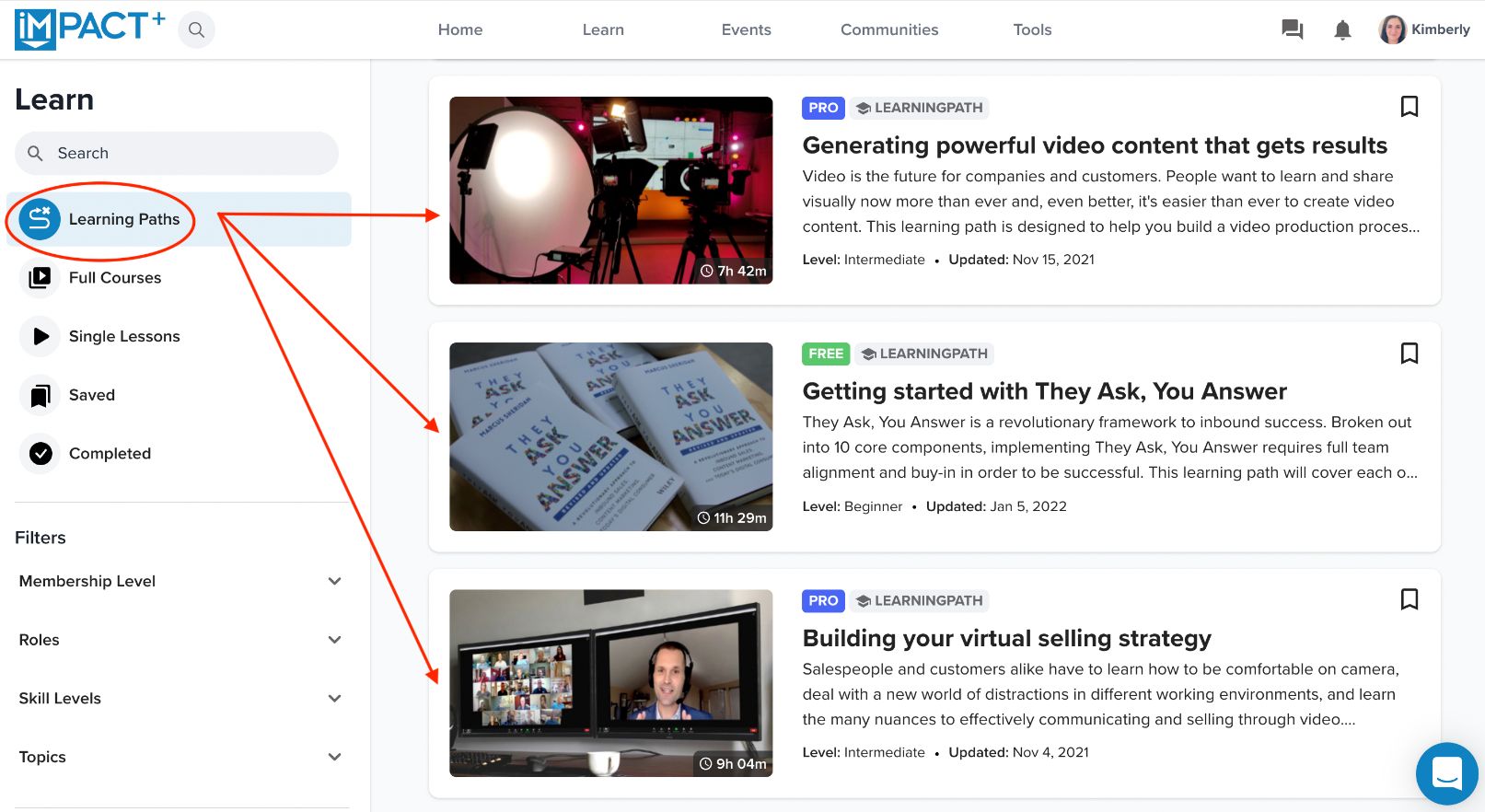 By starting with the They Ask, You Answer Learning path specifically, your team will immediately build the fundamental knowledge of what They Ask, You Answer is and how to properly implement it.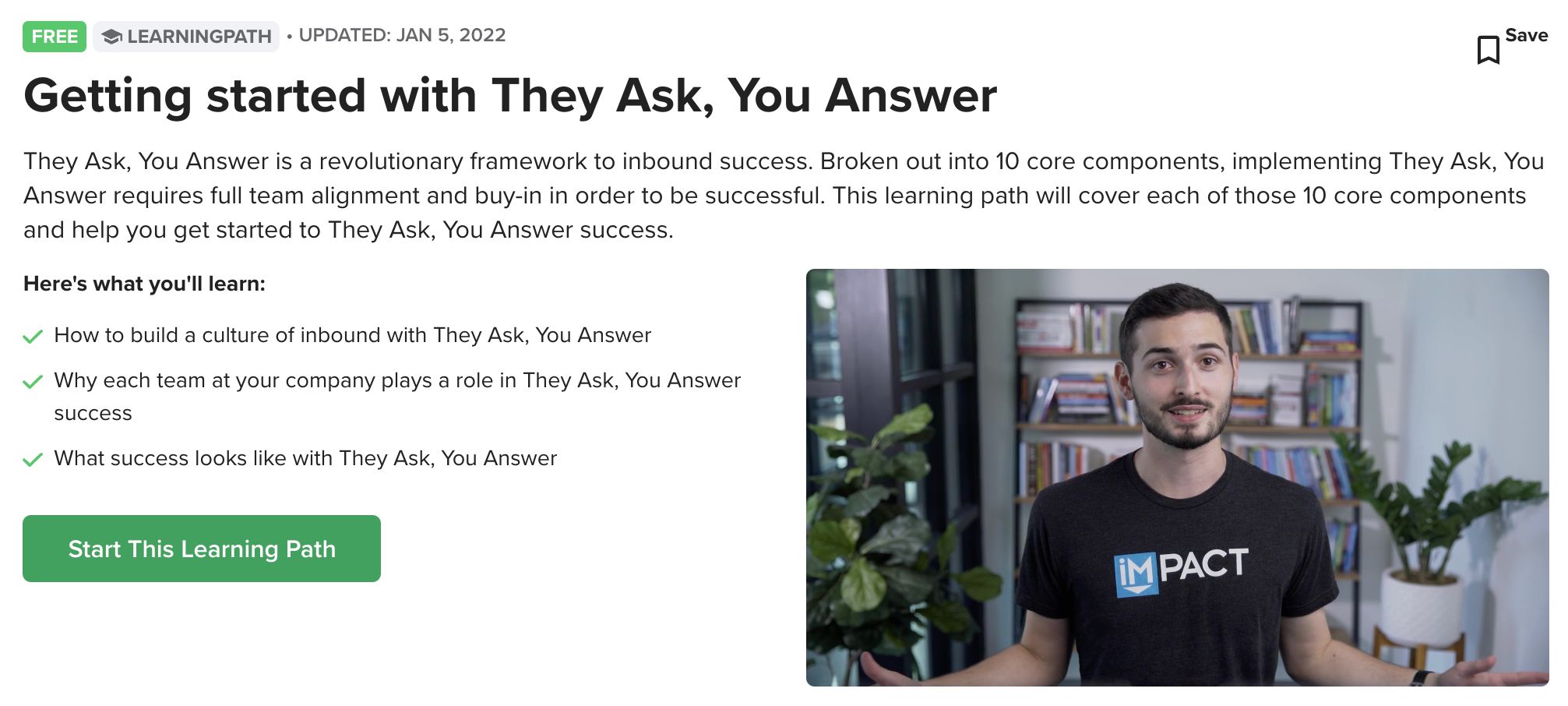 This learning path offers nine courses and one event recording with over 10 hours of content that will help your team build a foundational understanding of what They Ask, You Answer is and how it connects to different parts of your inbound marketing strategy.
It also reinforces the 10 core concepts outlined in the book and will get your team aligned on a strategy for implementing them, such as how to write The Big 5 and create The Selling 7, the basics of virtual selling, how to build a revenue team, and more.
2. Create or join a team, and invite other members
The second thing you want to do on the IMPACT+ platform is create or join your team and invite other members to join.
To do this, navigate to the top right-hand corner and click on your profile. Then choose "Teams" from the dropdown.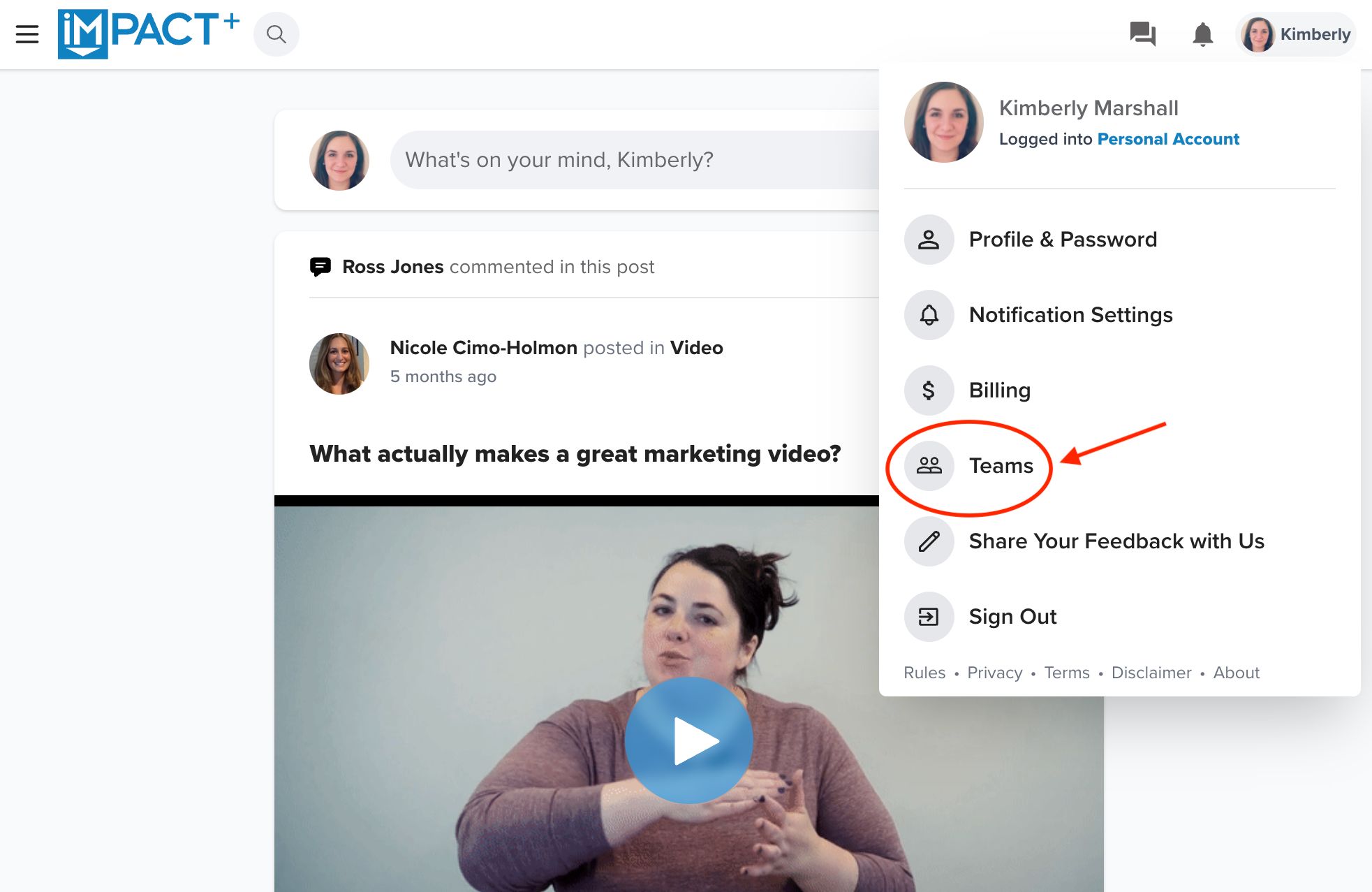 Once you create your teams and invite members, you can view and manage your teams, ensuring that members are grouped according to role, which makes it easier to get everyone on the right learning paths.

There are additional features that come with having a team with a Pro subscription, such as extra tracking and analytics capabilities. But, regardless of which type of membership you have, creating your team allows you to track everyone's learning progress.
It also allows your teams to eliminate the sales and marketing silos. You can still educate your marketing and sales teams with the professional development tools they need. But instead of training your teams separately, your sales and marketing employees will learn and speak the same language while also working independently and building their individual skills, all in one place.
3. Facilitate a scoring round
After your teams finish the They Ask, You Answer learning path and you've signed up everyone in teams, click on "Tools" in the left-hand navigation or at the top to access your scorecard. Once you fill it out, it will give you a digital sales and marketing score that you can use to narrow your focus.
The Digital Sales and Marketing Mastery scorecard tool allows your team to:
Accurately gauge how well your program is going.
Track your team's progress and growth over time.
Help you identify which areas you should focus on next.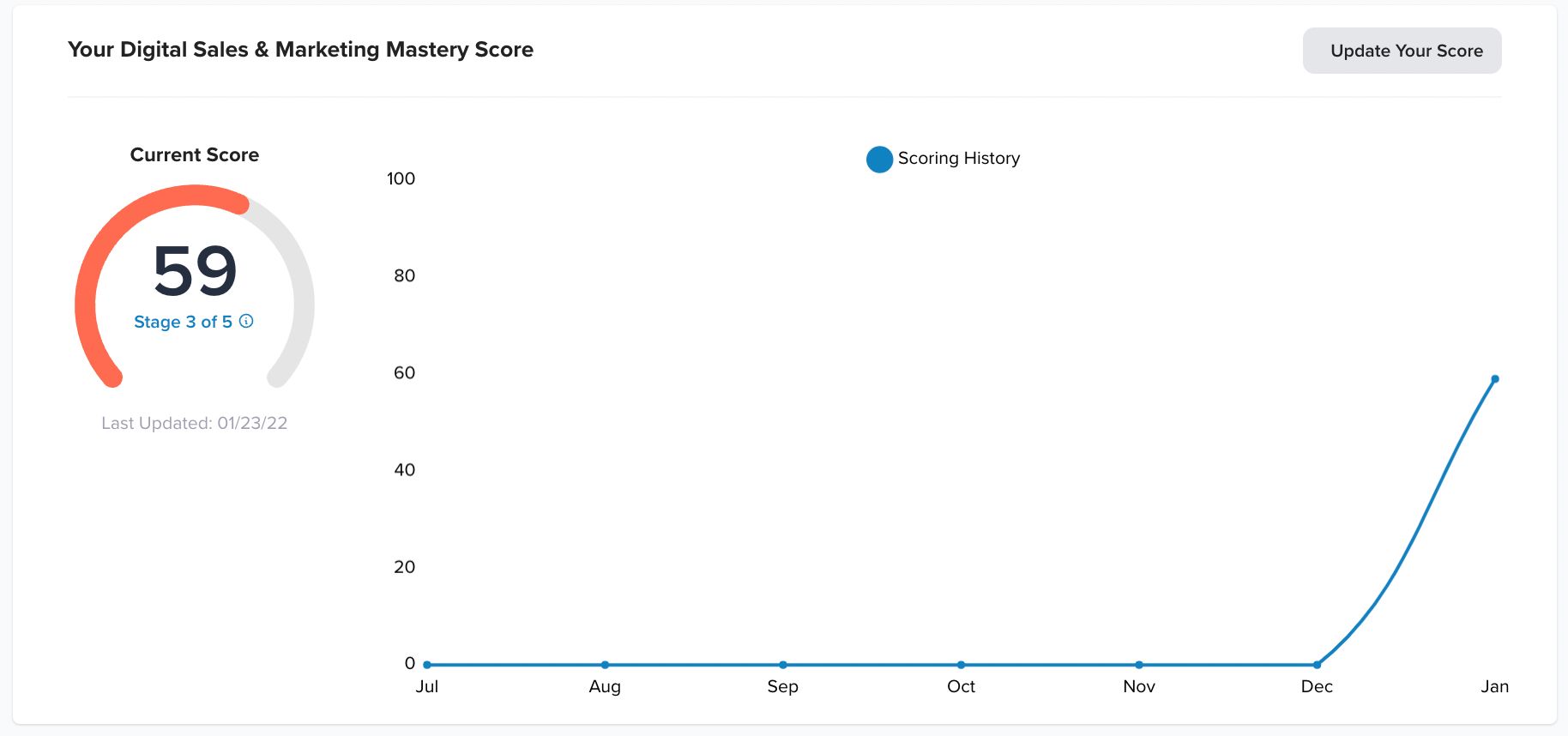 This step is best taken after you watch the They Ask, You Answer fundamentals course so that you're familiar with the phrases and terminology used. Without watching the course, the scorecard might not make a lot of sense to you — especially if you're not familiar with They Ask, You Answer and the main principles.
Once you complete the scorecard, you'll be able to see exactly which main skills your team needs to focus on for the quarter and which resources to utilize. For example, if your team is struggling with company alignment and buy-in, your results might include the following:

4. Identify your main areas of focus for the next three months
After filling out your scorecard, take your list of principles that need improvement and pick 2-3 of the most important ones to focus on first.
If you score low on the majority of principles (like most companies just starting out do) resist the urge to tackle every topic at once. While the process might sound like an easy one, it can be challenging to get it just right. You will be relearning how to tell your company's story from your buyer's perspective, and this shift in thinking takes time.
As our Member Success Manager Connor DeLaney explains:
"Setting 2-3 main objectives might slow your team down a little bit, but it makes honing these skills manageable and gets the ball rolling. I'm a big proponent of building momentum; when you can build momentum on this, it becomes easier."
We've created a step-by-step, 12-month process for implementing They Ask, You Answer, which could help you prioritize your goals as well. If you have questions about how to implement They Ask, You Answer at your organization, set up a call with one of our advisors and they can walk you through the process.
5. Build trackable metrics around your priorities
The final step to getting started with IMPACT+ is setting up metrics to track the progress you're making on the main areas of focus you've chosen. This will help your team continue to track its success and easily see where it needs improvement.
To set up and track your metrics, create a new period under the tools tab. We recommend metrics or you can create custom ones that suit your business's goals and objectives.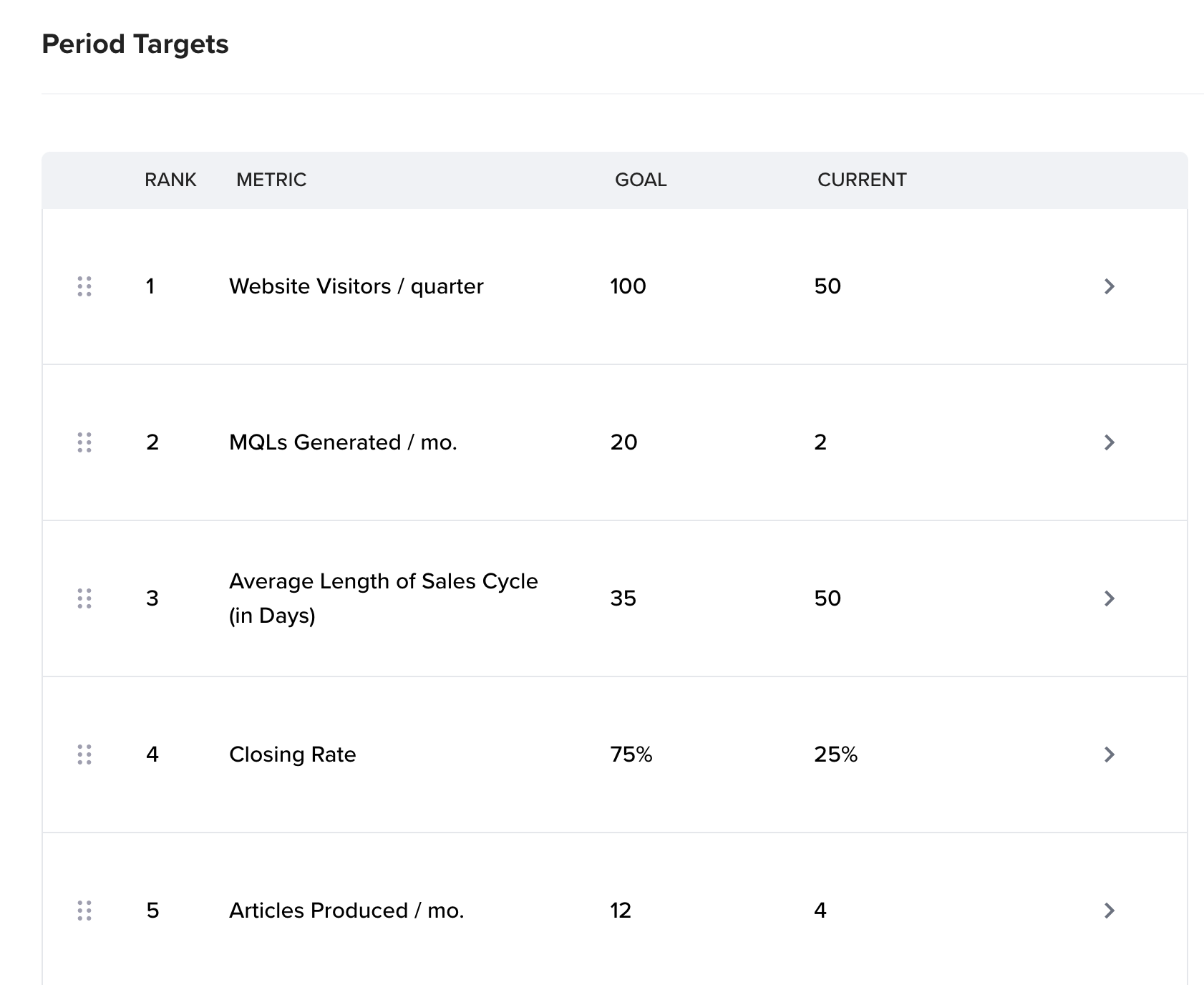 Your priorities should feed your metrics. So, if your goal is to double your lead generation in the next three months, you might aim for a hundred qualified leads per month.
Next, think about how you're going to drive that. Are you going to write more of The Big 5 content? Are you going to create more lead magnets? Once you have your priorities chosen, this step is about how to take those 2-3 main areas of focus and make them into actionable next steps.
Connor shared this tip:
"Say you get a zero out of 10 on writing The Big 5 content. First, set a priority to host a content brainstorm and set up metrics to align with how many articles you need to publish per month. To measure your outcome, ask yourself if the metrics you put in place led to the outcomes you wanted. That's the only way you'll know if your team is really on track."
For more information on which metrics to track and how to track them, read our article titled "7 Content Marketing KPIs You Must Be Tracking In Your Strategy."
Get the most out of your IMPACT+ membership today
These are just some of the ways you can get the most out of your IMPACT+ membership once you sign up. You can also join the different communities and take advantage of the conversations you'll find there about how to improve your content, video, and sales initiatives.
It's a huge step your business can take to set yourself up for inbound marketing and They Ask, You Answer success.
Free Assessment:
How does your inbound marketing measure up?
Take this free, 5-minute assessment and learn what you can start doing today to boost traffic, leads, and sales.
Get Started
Free Assessment:
How does your inbound marketing measure up?
Take this free, 5-minute assessment and learn what you can start doing today to boost traffic, leads, and sales.
Published on January 29, 2022