The Hidden Costs of Successful Video Marketing
Video marketing has high return, but there are tangible and intangible costs many don't consider
In 1979, English synthpop group The Buggles sang "Video Killed the Radio Star."
Besides just becoming a beloved staple of my oldies playlist, this song also proved to be a bit of a prophecy of the video dominance that was about to hit the music industry with the launch of MTV — and truthfully, our lives overall.
Over 40 years later, people crave video, especially when researching a purchase.
In fact, when asked how they'd most like to learn about a product or service, 69% of respondents to a survey by Wyzowl said they prefer to watch a short video rather than read an article, view an infographic, or watch a webinar, among other things.
Moreover, another survey reported that 83% of respondents said a product/service-explainer video has helped them make a buying decision before.
None of this is surprising. Video is proven to help communicate information faster and more effectively so businesses like yours can increase awareness, increase and maintain engagement, increase conversions and sales, humanize your brand, and establish trust.
But all this goodness comes with its price tag.
Video marketing requires a number of tangible and intangible costs including unique strategy, production, and equipment.
The return is high, but these are costs many do not consider when starting their video marketing journey.
Now if you're following They Ask, You Answer, you already know the salary of an in-house videographer is a given cost, so in this article, we'll go a little deeper, detailing:
Common costs of video marketing by category
Recommendations and evaluation tips from our team about how to spend your budget
The hidden costs of video marketing
Let's start with the basics of video equipment.
Filming equipment
Ok, perhaps this one isn't hidden, but we can't talk video marketing without talking cameras.
Camera
A camera is essential to video marketing and will have the most influence on the picture quality of your finished product.
While your smartphone likely has an impressive camera on it, we suggest investing in a dedicated filming camera to level-up your production and achieve a more professional finish.
IMPACT's Lindsey Schmidt loves using the Panasonic GH5 for capturing interviews and action shots.
This and other DSLR cameras will give your business videos an identical picture quality to what you're used to seeing on television at a fraction of the price.
Whether you're shooting b-roll of your office or an interview with one of your subject matter experts, this camera will give your picture the look and feel of a professional production.
It also has the ability to take still pictures as well, which could be useful for company headshots or group photos.
You can expect to pay, on average, $1,800-$3,000 for the body of this camera. Then, you will need to assess which lenses you want for your business, which will add to your expenses.
If you know you're going to be shooting interviews, for example, look for a lens that will allow you to get a medium close-up shot where you can clearly see someone's expressions. Conveying this emotion will be important in establishing trust with your viewer.
Gimbal
Next, we recommend investing in a gimbal. This is a device that keeps your camera steady when moving around and can be helpful when shooting b-roll such as a tour of your office or facilities.
You can find many options on Amazon ranging in price from the teens to the high hundreds.
Tripod
A tripod, which you're likely more familiar with, also keeps your camera steady, but is more suited for when it's still (think interviews or talking head videos).
Price aside, you should really take the following into consideration when evaluating tripods:
Fluidity of the tripod head: If you're using pan or tilt movements (up and down, side to side) in your footage, you want them to be smooth. Otherwise, you're going to have shaky, unprofessional videos.
Quality of the build: There are a lot of moving and locking parts on a tripod. If you opt for an inferior product, these parts can get worn out and need replacing, adding to your expense.
If portability is a major factor for you, the Benro Aero 4 Travel Angel Video Tripod Kit is a very lightweight, compact option that's under $300. Plus, it still wields a great fluid head for the price, sturdy locking hardware, and a bubble level.
Although it doesn't look like much, the Manfrotto MVK500AM Lightweight Fluid Video System is a great option too. The twin legs and middle spreader help keep the tripod from getting knocked over with heavy equipment, and the professional video fluid head is superb.
Possible video equipment cost:

Roughly $2,500-4000




Audio equipment
How your video sounds is just as important as how it looks, which brings us to audio equipment.
External recorder
Bad audio is one of the top reasons people will stop watching your video, and when it comes to sound, there's more than just the microphone that goes into getting a great quality audio recording.
When using a DSLR camera, like the one we've recommended, it's common practice to separate the video and audio recordings.
With this in mind, an external recording device produces a better quality audio track than a mic and allows you to separate your audio recording from your video recording. This gives you more flexibility with what you can do with your audio later on (think podcasts or typography videos).
A zoom recorder is recommended as the industry standard and is the recorder we've commonly used for higher-level productions. You can expect to pay around $200 for one.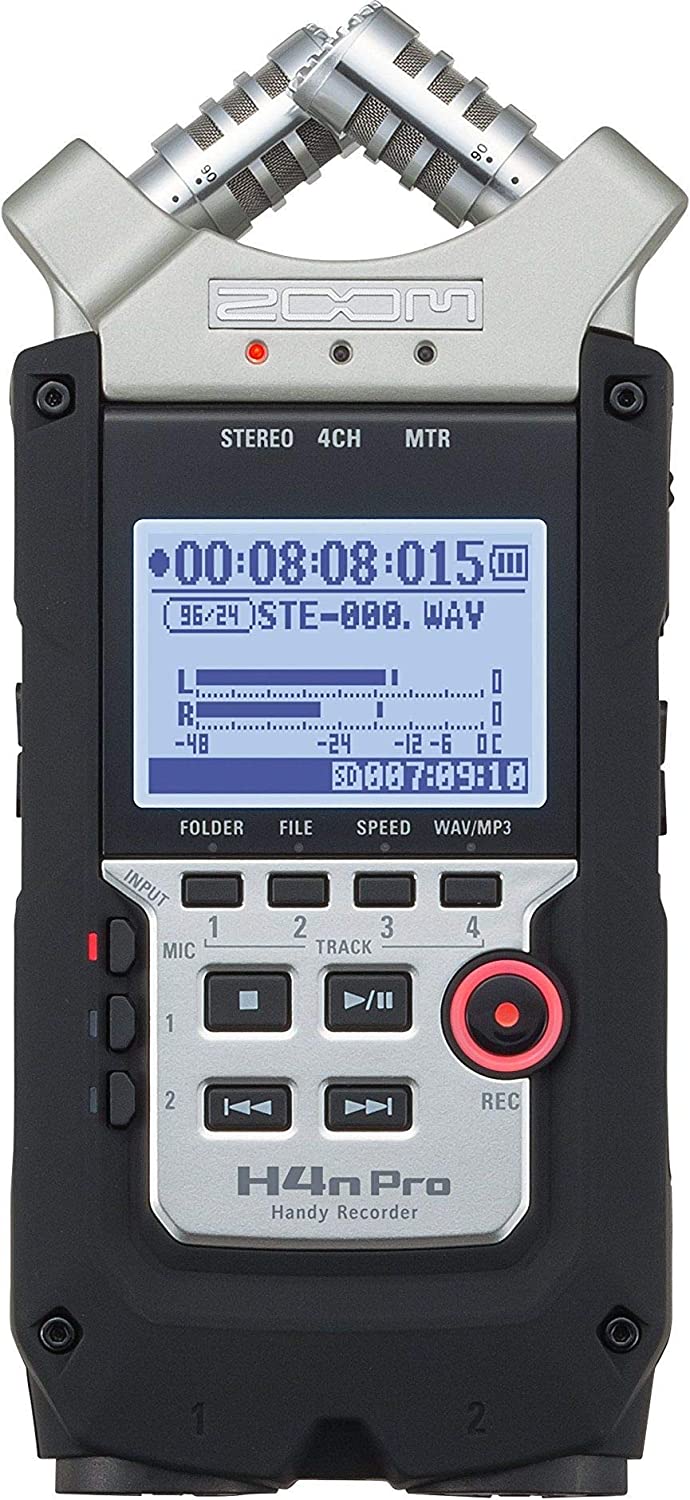 Lapel microphone
Once you have a recorder, you'll need a lavalier or lapel microphone — this is essentially a microphone that clips onto your subject's clothing and is commonly what's used in interviews you see on TV.
Being so close to the subject, a lapel microphone eliminates any distracting ambient noise you might get if you used a built-in mic. This helps ensure viewers are only hearing what you intend them to.
There are many different options available for lapel mics at a wide range of prices. Lindsey recommends choosing something that bundles two microphones so you have a backup. This option is $40.
Shotgun microphone
Lindsey also highly recommends investing in a shotgun microphone to attach to your camera. This additional microphone will serve as a backup to your interview recording, and capture better natural sound during b-roll shoots than your camera'S internal microphone will.
When shopping, look for a bundle that includes an XLR cable to be able to connect it to your camera. If you can't connect the microphone to your camera, the camera will not record the audio on the microphone; it will instead record it on its internal microphone, which does not have the extended range that the shotgun microphone has.
This kit from Rode is an example of a bundle you can get for about $315.
Depending on the camera you buy, you may need to invest in additional connector cables to be compatible with your DSLR.
Possible audio equipment cost:

~$600
Storage
All those video and audio files need to live somewhere. When investing in video marketing, you need to make sure you have ample storage for your files. This means SD cards large enough for all of your projects as well as backups.
The cost of storage will depend on the amount you need, but this 256 GB one will cost about $40.
Possible storage cost:

$40+
Studio Setup
Now that you have all your equipment, you need somewhere to film. While you can set up somewhere in your office, here are a few pieces you'll want to have on hand.
Lighting
Similar to poor sound or shaky video footage, poor lighting can distract your audience from the actual message of your video content strategy.
Rather than listening to what you're saying, they may be thinking they can't see who's speaking or what they're speaking about.
When it comes to marketing videos, you want to come off as positive, approachable, and inviting. Not only do you need to entice people to click and keep watching, but you also want to make sure they are paying attention to your message.
Bright, natural light helps accomplish this by making it easier for a viewer to see your subject and creating an airy, positive ambiance. Dark or poor lighting, on the other hand, can have the opposite effect.
Natural light is always a win, but investing in a three-point setup (pictured below) will give you more freedom to film wherever and whenever you like.
This lighting setup is the basic industry standard and will fit most of your video marketing needs.
With it, you're able to light the front of your subject evenly with the key light and the fill light while separating them from the background with the backlight. This gives your subject dimension and makes them look the best they can.
The GVM 800D-RGB LED Studio 3-Video Light Kit at about $360 is a favorite of our team.
In addition to lighting sources like the ones listed above, you may want to consider diffusion panels (about $80) to diffuse a light source and eliminate harsh shadows and glare. A diffusion panel is an inexpensive, portable tool to have around and will work with any sort of light source.
Backdrop
Not everybody has a camera-ready office or place to record videos. A backdrop can help combat this issue and also create a clean background for editing or graphics in post-production.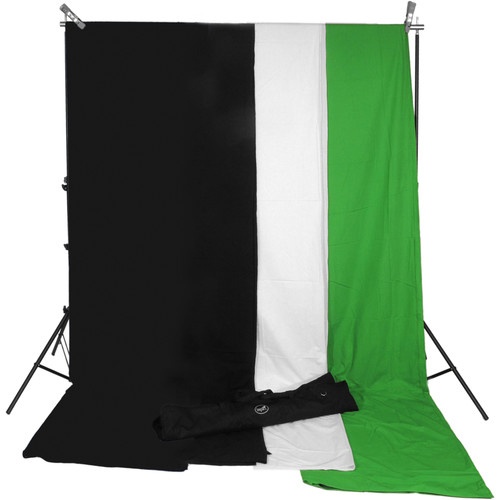 If you're setting up the studio in a cramped space, you likely won't have room for a full set, which makes a background system likely the best option.
This Background System is about $180 and is a good, inexpensive option because it is easy to set up and provides a clean, solid background for your subject.
Possible studio cost:

~$620
Post-production costs
Laptop
While you likely have a computer or laptop on hand, we recommend having a machine dedicated specifically to your video efforts. Video editing is time-consuming and often requires higher computing power.
A dedicated computer will ensure that it caters to these needs and that your team has access to the machine when needed. They won't need to share or wait in line for one to be free.
Apple Macbooks are typically the industry standard and start at about $1200.
Editing software
On this dedicated machine, you'll need editing software.
There are thousands of video editing software options out there, ranging in their capabilities and their price.
You can certainly find free options, but to implement many of the features outlined in The Video 6 (e.g., chapter titles and logo bumpers), you'll want to invest in a professional tool.
For example, Adobe Premiere starts at $20.99 per month as does After Effects (for animation and motion graphics).
Possible studio cost:

~$1200 (+ monthly costs)
Video host
With a video in hand, now you'll need a host to prep your videos for viewing. The best video host for your business will depend on what you're trying to accomplish with the video, especially since they come at many different price levels.
For instance, if your goal is to build awareness and get found with your video, then YouTube is your best option and it's free. (Side note: If you're using YouTube, you'll also want to invest in TubeBuddy (starting at 3.99 per month) to help you optimize your channel and video descriptions.)
If you're trying to gate parts of your videos to generate leads, perhaps you'll want to use a pro version of Wistia.
This article dives into detail about your options, various prices, and how to make the best choice for you.
Possible hosting cost:

$0-$300 (+ monthly costs)
Video add-ons
Sometimes your video needs a little something extra to help clarify its message and make it more engaging. That's where add-ons come into play.
Stock audio and footage
While you would ideally have all the footage you need from your filming days, stock video can come in handy for filling in the gaps and driving home your messages with visual aids.
Similarly, stock audio can set the right mood and pacing for your videos.
There are plenty of free resources for both stock video and audio, but for lack of a better turn of phrase, you get what you pay for. The quality of the audio and visuals you get tends to improve when you turn to more professional resources like Shutterstock which starts at $49 per month.
Motion graphics
If you don't have someone skilled in motion graphics or animation on your team, this may be another thing you'll need to plan on investing in.
Some motion graphics may be available from stock sources, but you can also turn to a service like UpWork to hire a freelancer or use a tool like Envato.
(On a budget? Here's a blog post about setting up a video studio for less.)
Possible hosting cost:

$49+ (varies on freelancer)
Time and commitment
The biggest hidden cost of video marketing is undeniably the time and commitment needed to do it right.
Filming, editing, and publishing time will vary depending on the video at hand. If you're splicing in b-roll, motion graphics, or special effects, it will take longer than a simple one-minute talking head video.
Having a videographer or video manager own the execution of your video marketing strategy will help, but some projects are collaborative.
Perhaps you'll be working on the script with a subject matter expert from another area of the company, maybe another employee is presenting it on camera, and another is approving it.
This means working around several different schedules and, perhaps, through several rounds of editing.
To keep things moving everyone needs to be aligned, and more than anything committed to getting the video made.
You can't have stakeholders within your business deprioritizing projects because they don't believe it will work or they're not comfortable being on camera.
You need to establish a culture of video and give your team the training and resources they need to succeed within it.
Big investment with big return
Now, take a breath.
I know this list was long and there were a lot of small pieces you may not have planned for when you started thinking about video marketing, but rest assured: video marketing is a big investment that leads to big returns.
This year, 87% of video marketers reported to Wyzowl that video gives them a positive ROI. That's a world away from the lowly 33% who felt that way in 2015. Clearly, video marketing is only growing in strength.
Use the information above to start planning or refining your video marketing budget for the months ahead, and if you need some help aligning this with your strategy, talk to one of our advisors.
Free Assessment:
How does your inbound marketing measure up?
Take this free, 5-minute assessment and learn what you can start doing today to boost traffic, leads, and sales.
Get Started
Free Assessment:
How does your inbound marketing measure up?
Take this free, 5-minute assessment and learn what you can start doing today to boost traffic, leads, and sales.
Published on August 11, 2022