SaaS Inbound Marketing: How to Get Started With Your Strategy (+ Examples)
As a software company, can you use inbound marketing to connect with your audience and build trust with potential customers? Use these examples to inspire your strategy.
Software and software-as-service (SaaS) businesses are in a tough spot. They operate in an ever more crowded marketplace, and the value they provide is sometimes hard to articulate with words alone.
This means you are often dealing with potential customers who are "problem aware" but not "solution aware." In other words, they know the challenge they're facing, but they might not know anything about the potential solutions that exist — including the one you offer.
How can you combat this? How can you make sure buyers know you can help and get in front of them?
A shrewd inbound marketing strategy can help accomplish all of these things and yield tremendous results, including more traffic, more leads, and more sales.
How is this possible? In this article, we're going to dive into:
An overview of inbound marketing
The five inbound marketing topics guaranteed to drive traffic to your site
What those topics look like in SaaS inbound marketing
Inbound marketing: An overview
At the most basic level, inbound marketing is a simple approach to digital marketing, based around the premise that the buyer has changed.
Modern buyers don't want to have to talk to a salesperson to explore their options. They want to poke around and come to a decision at their own pace and the internet allows them to do that.
Rather than forcing a marketing message on someone when they may or may not need it through commercials, billboards, etc. (what we call outbound marketing), inbound marketing makes your message easy to find when buyers seek it.
This is done by using search engine optimization, valuable content marketing, social media, and email marketing among other mediums.
It starts with knowing what your buyers want to know
When customers are thinking about making a purchase from an SaaS company, they usually start by gathering information and usually they do this with a computer and a search engine.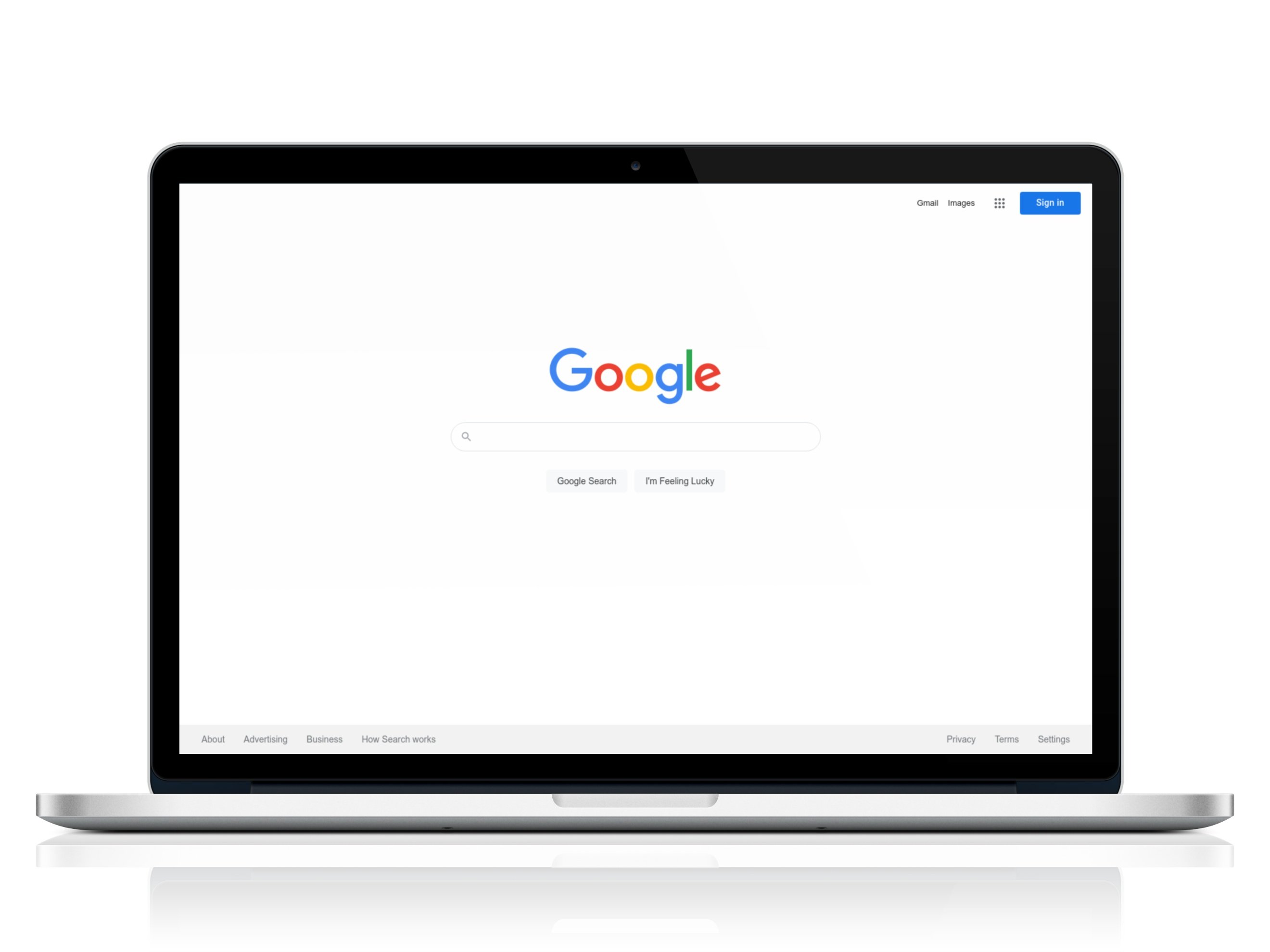 If a customer's search leads them to your website, and they find your content to be helpful and honest, then they're willing to trust your business and consider your solution. In turn, they are more likely to reach out to you when they're ready to speak to someone about their needs.
Getting them to your website is the first challenge.
So, how do you know what people are asking — and exactly how you should be answering it?
They begin by typing questions into Google and looking for pages that answer those questions.
When people or businesses are looking for a software solution, what's going through their minds? Are they excited about finding something that will make them more efficient and effective? Are they wary of getting stuck with a bad-fit solution? Are they worried that hidden costs will crop up that will push them over budget?
Dozens of questions are likely running through their heads — and these questions are even more nagging when the software will be used by an entire team of people.
In inbound marketing, if your business is the one that provides the answers they're looking for, your target market will begin to trust you as a helpful resource. The more they trust you, the more likely it is that they will want to buy from you.
Buyers need to know they're making the right call. Software demos, which can effectively display features and functionality, can also feel salesy and unrealistic, and they can overwhelm a novice.
So, how can SaaS companies connect with customers in a genuine, honest way?
If your buyers have a question, you should provide the answer. Author and IMPACT Partner Marcus Sheridan has built an entire framework around this premise. He calls it They Ask, You Answer.
Inbound marketing and They Ask, You Answer can be that pathway to connection. By publishing content that directly addresses buyer questions and challenges, software companies can foster trust with their prospects, who will in turn become more educated about how their needs match the features of any software option.
To get started, a SaaS business must truly understand the needs of its customers.
Building a SaaS inbound marketing strategy
A content strategy drives most inbound marketing efforts, keeping you on track and focused in a way that brings customers to your site.
Your strategy is your blueprint. According to IMPACT content trainer Jen Barrell, "A content strategy is a full-company document that illustrates how the content the organization creates will impact every facet of the business."
To build your strategy, focus on developing answers to the six following questions:
What is the goal and purpose of your organization?
What do you hope to achieve with your content?
Who is your audience?
What are the ideal user paths through your website?
How will you define inbound marketing success?
Who owns the inbound strategy and who contributes to it on a regular basis?
With clarity around these points, you can start to move forward and assemble your team.
For more information about building a complete content strategy, check out Jen's article on the subject: What is a content strategy? (definition and examples)
A good strategy includes both written and video content
We've found that video builds trust even faster than writing, but text can offer more depth and specificity.
Therefore, consider covering each of the topics in your strategy with both kinds of content.
Having the right teammates
If you're serious about inbound marketing, we recommend diverting money you've been spending on traditional outbound marketing and hiring internal team members — a content writer and a videographer — to support your efforts. With inbound leads costing about 61% less compared to outbound, you'll likely find this to be more efficient for your company.
Then, when you're ready, you can begin to address these key topics in content that customers will find, value, and share.
Helpful resources for building your team
We've written extensively about how to find, hire, and onboard the best content manager and videographer for your business, so if you need help landing the right person for your company, check out these resources to help you move forward.
So, how do you know what people are asking — and exactly how you should be answering it?
The 5 inbound marketing topics guaranteed to drive traffic to your site
At IMPACT, we've found buyers everywhere are usually asking the same questions. Whether they're buying a new washing machine, a snowboard, setting up a gardening service, or purchasing software, there are usually the same concerns going through their minds.
For example, every customer usually wants to know about cost. They want to know how much they are likely to spend and if they're getting the best deal possible. They want to know they're not wasting their money.
Buyers also want to be able to compare their options and know the pros and cons of each.
We sort these universal purchase questions into topics we call The Big 5:
Cost: First on everyone's mind, of course, is cost. We are all skeptical when a website won't tell us how much a product or service costs. Does "Call for price!" actually work? I doubt it.

Sure, it's hard to say exactly how much something might cost — especially something with as many variables as software — but customers want to have some idea.

Addressing cost openly and explaining what factors make that number go up and down will give customers the information that they're looking for.
Problems: When we make a purchase, we want to know what might go wrong. This is why we're so drawn to 1-star reviews. Feeling informed about worst-case scenarios helps us be prepared for whatever could be thrown in our way.
Reviews: Connected to problems are reviews. These could be reviews of products, reviews of customer service, or reviews of entire companies. According to Inc.,

84% of consumers trust online reviews

as much as they trust a review from a friend.
"Best of" lists: Customers frequently Google questions that help them find lists of best solutions. "Best project management software for teams" or "Best website hosting service" are good examples.
Comparisons: Consumers want to put things side by side to know how they stack up. Covering these head-to-heads can help demonstrate your expertise and make your potential customers feel informed so that they can make the best choice possible.
To learn more about writing The Big 5, check out this free course in IMPACT+.
Real-world examples of SaaS inbound marketing
So, what does SaaS inbound marketing look like in practice? How do SaaS companies produce Big 5 content? While this might look different depending on your needs, your industry, and your competition, the examples below can help you generate ideas for your own content marketing.
Like you, these SaaS companies are seeking to educate buyers by directly speaking to their concerns about cost, drawbacks, and more.
Addressing cost
Cost is tricky. It's right there in the front of everyone's mind, but it can be hard to speak about it directly.
With a software service, there are probably a number of factors that influence cost. There's the price of the service itself, but then there might be onboarding or support costs, or costs associated with the number of contacts in a user's database or pages on their website.
Still, to the extent you can, you should openly explain what you charge. Customers are just looking to get an idea. They know that their bill might be different from what your website estimates, but they will appreciate the ballpark figures you provide.
IMPACT client Dental Claim Support offers outsourced billing services to dental offices. Here, writer Davy Clay lays out the costs associated with his company's service — and then thoroughly compares them to insourced billing.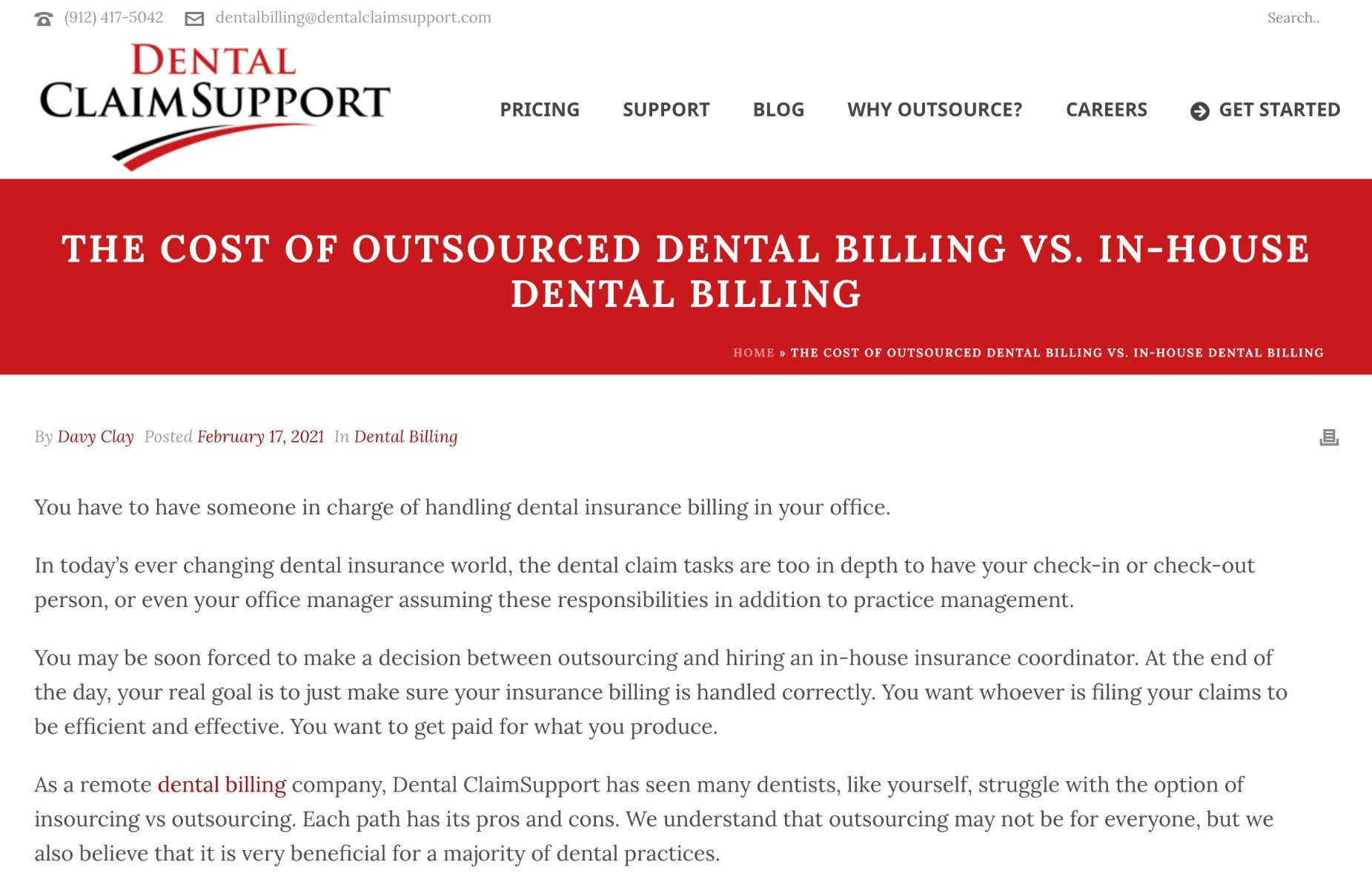 I love how he speaks directly to dentists. It's clear that he knows his audience and what it wants to hear:
"As a remote dental billing company, Dental ClaimSupport has seen many dentists, like yourself, struggle with the option of insourcing vs outsourcing. Each path has its pros and cons. We understand that outsourcing may not be for everyone, but we also believe that it is very beneficial for a majority of dental practices."
In the end, he provides a candid and complete explanation of his company's costs and explains how they make sense for an average dental office.
Being honest about problems
Addressing "problems" feels very straightforward when you sell something like refrigerators. If you have data from past purchasers, you know that a higher percentage of customers who bought such-and-such a model had to schedule repairs due to a specific issue.
Software is an entirely different animal. Any problems or bugs are going to be addressed in subsequent updates, which will roll out automatically. Even shortcomings may be improved upon after the purchase. Indeed, customers expect as much. They expect a software subscription to grow with them, frequently being updated to address security and functionality.
So, what does it look like when SaaS companies address problems? They might speak specifically to bad-fit customers. Something like, "If you need software to do X, you should look elsewhere because that's not what we focus on."
Or, they could do what ThoroughCare does here: address common problems that their customers might face, and then offer detailed solutions — of which their software is only a small part.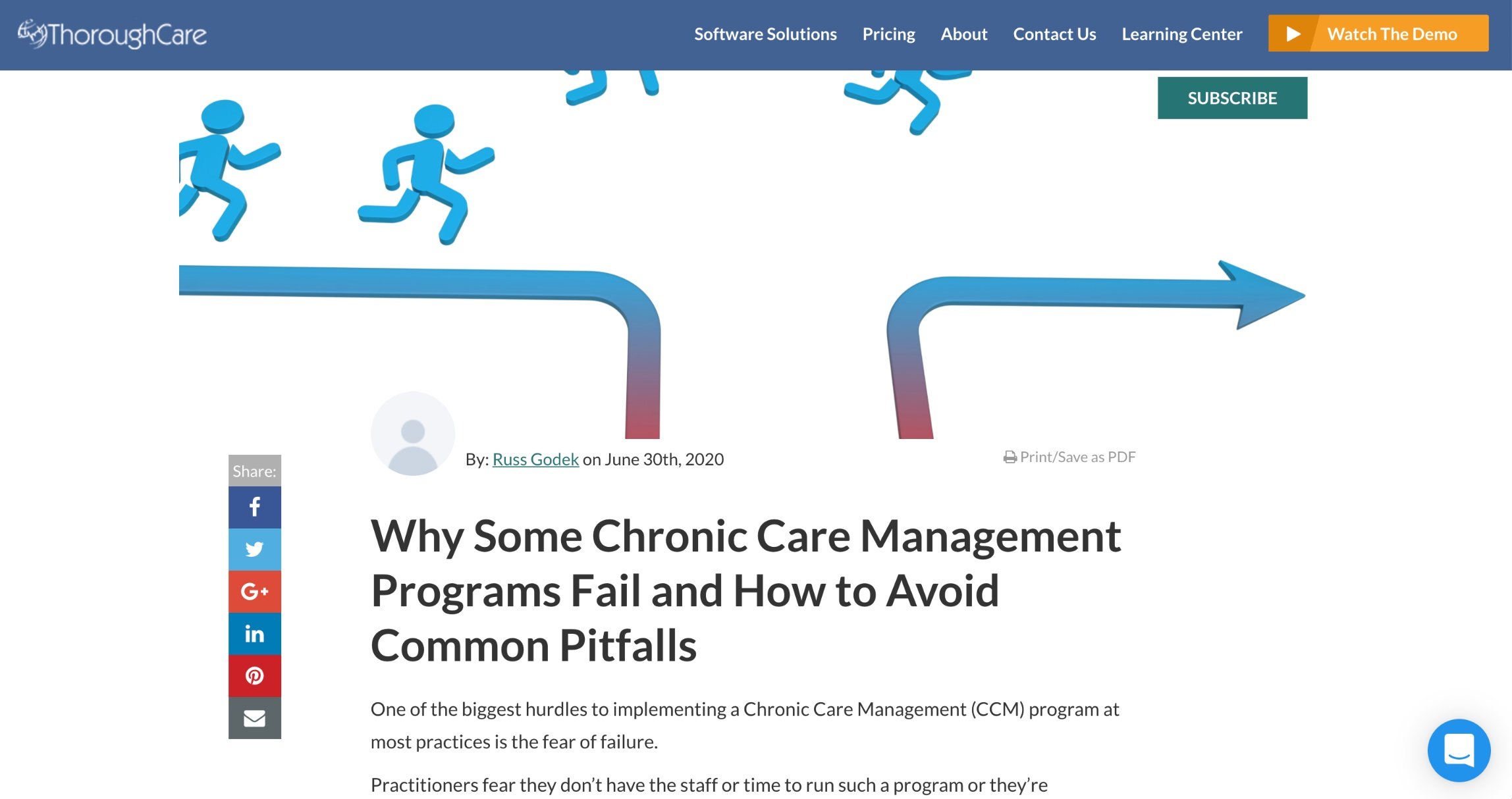 Notice how this article speaks right to the target customer. It's clear the writer understands their needs and addresses them clearly and logically.
This is certainly a useful piece of content for the right prospect.
Candid reviews
Customers are naturally skeptical of reviews posted on a company's site. When we read reviews, we want to know we're getting the whole picture — from actual customers. If reviews are on a business' website, we naturally assume we're getting the cherry-picked list that makes that business look its best.
This is why neutral, third-party sites like Yelp and Google Reviews are so popular. Sure, we might still have doubt, but the more reviews (and the more consistent the reviews), the more we trust.
For this reason, the article I've chosen here is not on the site of the company being reviewed. Still, it has value for our discussion.
When it comes to HubSpot, IMPACT is not a neutral party. We're a HubSpot partner agency who uses HubSpot ourselves.
Because we are not HubSpot, our review of HubSpot's services has enough distance to be seen as valid.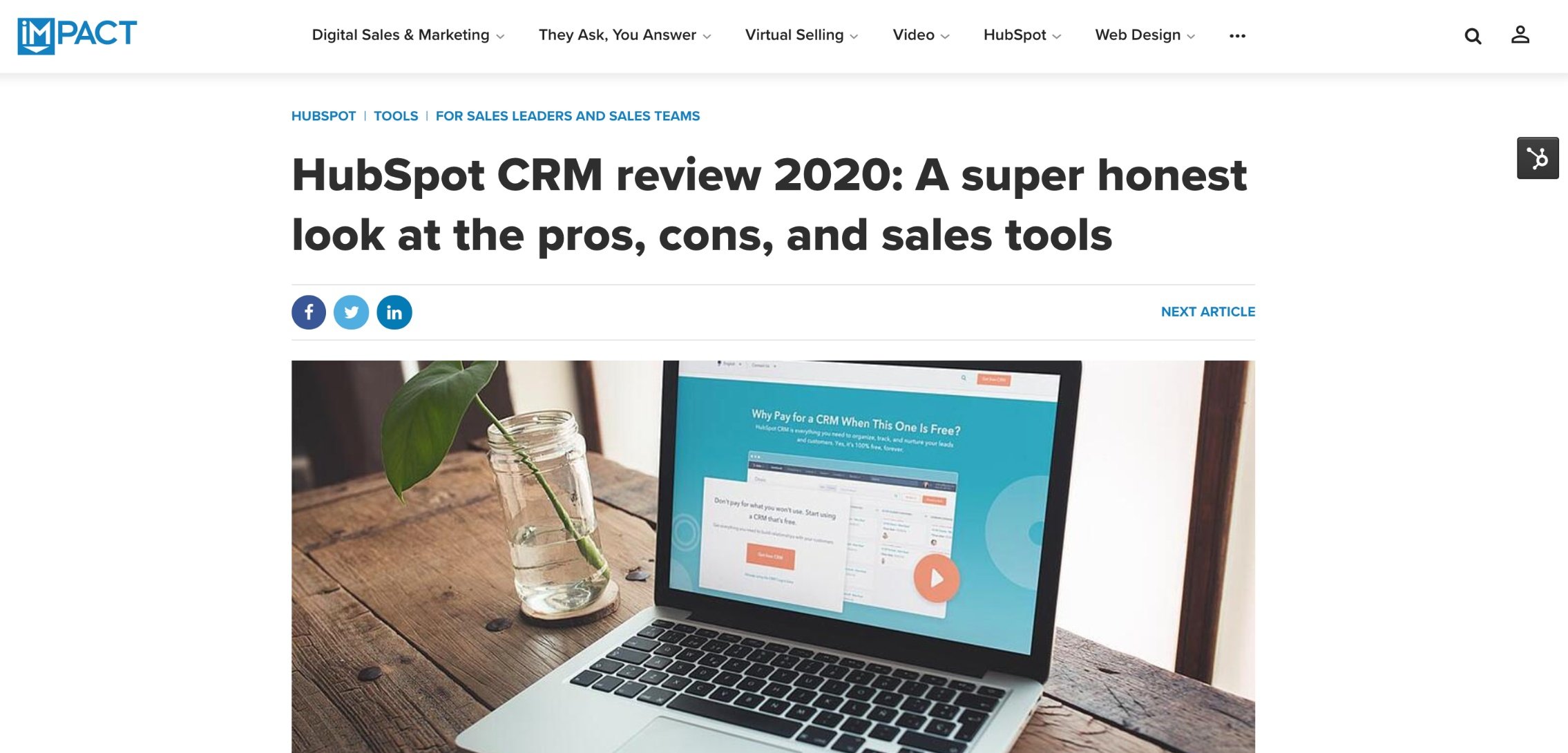 Also, writer Carina Duffy does a great job of diving into the why behind each aspect she discusses. The fact is, HubSpot is not perfect, and Carina uses her thorough knowledge of the platform to provide a useful review for potential customers.
'Best of' lists
Customers like lists. Think about it. Aren't you tempted to click these?
Top 10 horror films of all time
The 13 best Italian restaurants in Boston
The 15 most overrated car models
Top 7 celebrity cameos on "The Simpsons"
When we find a list that feels well researched and complete, we feel like we have a useful reference to make a good decision.
As a social media tool, Hootsuite offers a variety of social media scheduling, monitoring, and analytics tools, including many for Instagram, which they list and review here along with other competitors.
Useful comparisons
No one can expect you to be completely neutral when talking about how you compare with your competition, but you should still aim to be balanced.
Here, HubSpot provides a thorough comparison between its services and MailChimp's.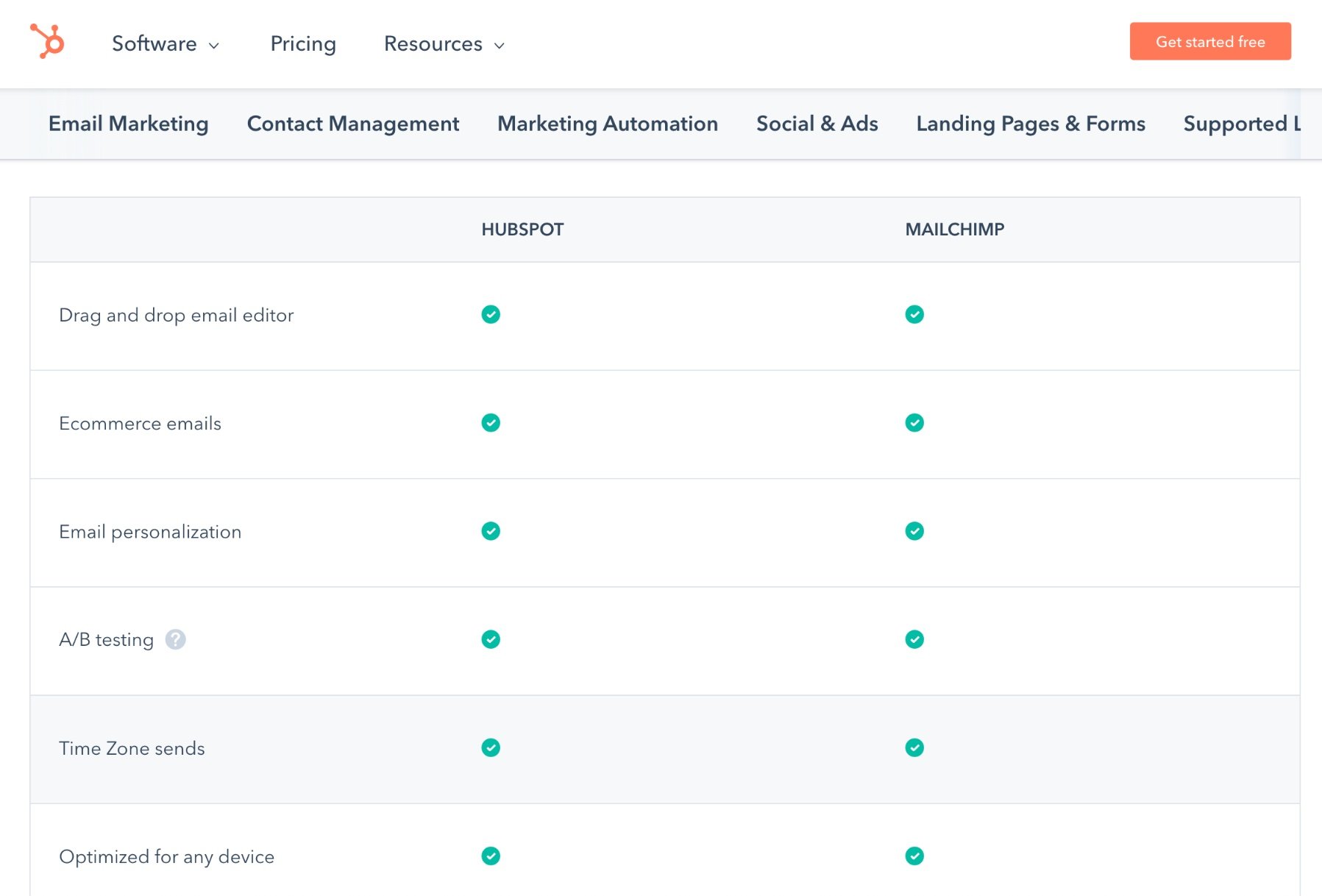 Note how the author uses charts and other visual organizers to provide easily digestible data.
Think about how many potential customers are Googling something like "HubSpot vs. Mailchimp." In fact, in Google, HubSpot's article comes first — followed by Mailchimp's article comparing itself to HubSpot!
Both articles manage to come across as helpful, but HubSpot ultimately reaches the conclusion that HubSpot is the better option, while Mailchimp's comes to the opposite finding. Imagine that!
Your buyers, your content
If you speak to your buyers — if you address their concerns honestly and openly — they will see you and your solution as trustworthy.
This means writing about cost and who is a bad fit for your service. While this might turn some people away, the leads who you attract will be more educated and qualified to move forward in the sales process.
Inbound marketing can be a wise investment for any company looking to build strong connections with its potential customers — and you should always get started by thinking about your customers' needs. What are they typing into Google right now that could lead them to your site?
While the principles of content creation might be simple, the execution takes determination and effort. Bring on the right team members so you can publish content at a steady cadence (we recommend 2-3 articles per week), and give them the resources they need to produce, publish, optimize, and track their content.
Want more inspiration to help you get started? Check out these inbound marketing examples.
Free Assessment:
How does your inbound marketing measure up?
Take this free, 5-minute assessment and learn what you can start doing today to boost traffic, leads, and sales.
Get Started
Free Assessment:
How does your inbound marketing measure up?
Take this free, 5-minute assessment and learn what you can start doing today to boost traffic, leads, and sales.
Published on April 16, 2022