Yes, They Ask, You Answer Works for B2B Companies (+Examples)
In fact, with a complex buying process and multiple decision-makers, answering customer questions is more important than ever.
If you're familiar with the philosophy of They Ask, You Answer, chances are you've heard the origin story following Marcus Sheridan's struggling swimming pool company, River Pools and Spas.
Staring down the barrel of bankruptcy during the recession of 2008, Marcus and his team developed a content marketing strategy that literally saved their business.
By obsessing over the way their swimming pool buyer thought and made decisions, they produced content that spiked search engine traffic, led to millions of dollars in revenue, and made them the most trafficked swimming pool website in the world.
Since then, it's become a business philosophy that has literally transformed organizations all over the world.
There's just one problem: the origin story, as compelling as it may be, is about a B2C organization that sells direct to consumers.
This can make the vision a bit unclear for a B2B organization and leads to an important question you're probably considering right now.
"I see where that may have worked for Marcus as a pool guy, but we don't sell pools. Will this really work for my B2B organization?"
Here's what's interesting: you'd think because of the origin (and the application at River Pools and Spas) that a majority of They Ask, You Answer success stories would be from other similar companies, but they aren't.
In fact, more than half of the organizations we've worked with here at IMPACT have been B2B. In many cases, they've also been service-based.
So, why is that the case? It sounds almost too good to be true that a philosophy could be universally applied across seemingly different marketplaces, right?
Well, in this article I'm going to outline a few of the major reasons why it does work for so many organizations, and by the end, you'll know if it's a good fit for your B2B organization as well.
Below, I'll cover:
Why B2B buyers are spending less time with sales.
Why sales teams are having fewer interactions with decision-makers.
The effect of limited product and service reviews and comparisons in the B2B marketplace.
Reason 1: B2B buyers are spending less time with sales
According to a study conducted by Gartner Research, by 2025, 80% of B2B sales interactions bbetween suppliers and buyers will occur on digital channels.
Additionally, this same study shows buyers typically spend only 17% of their time meeting with potential suppliers when they are considering a purchase.
These types of trends demonstrate that more and more of the decision making process is happening before a consumer connects personally with a company or sales team. Rather, they're using marketing materials to self-educate about their options.
This reminds us just how critical great content and great teaching are for any organization.
How you can use this to your advantage
If buyers are more interested in learning through digital content than talking to your sales reps, you've got to rise to the occasion and produce the content they're looking for.
You've got to have the most helpful, unbiased and most complete information available — and that's where They Ask, You Answer provides a competitive edge.
This means you will need to obsess over the questions buyers are asking long before you ever know that individual buyer exists. We call these The Big 5.
A great example of this in action is AQUILA Commercial, a commercial real estate company located in Austin, TX.
They've made a robust learning center that features customer-focused educational resources that is easy to navigate and filter to find what you're looking for.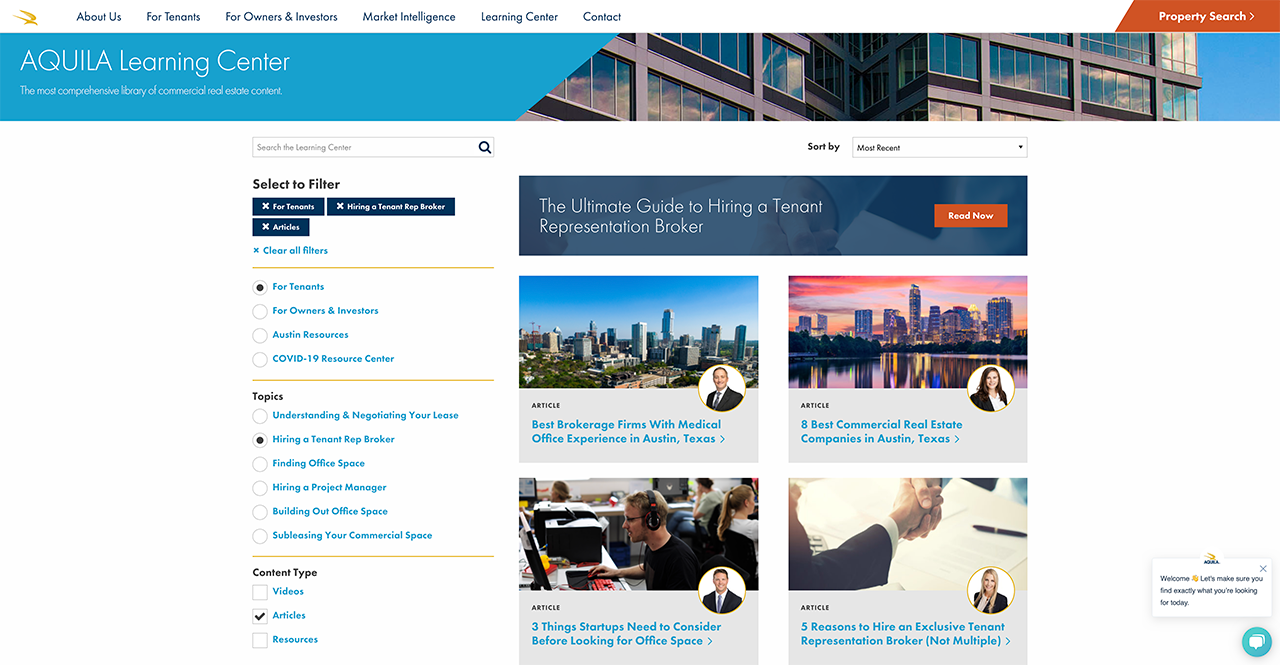 Whether you're a tenant, owner, or investor, you have full access to learn at your own pace and start to make decisions with or without the help of a sales rep.
According to company leadership, the leads that come in have already read multiple pieces of content.
As Bart Matheney, one of AQUILA's founding principals says, "Our digital content really puts us out there in front of the marketplace...we're the envy of all of our competitors."
Reason 2: Sales teams have fewer interactions with decision-makers
Moving an individual person through the buying process is challenging, but moving a group through that same process is even more difficult. Different parties have different motivations and unique perspectives as they approach a buying decision.
This becomes even trickier when sales reps have limited chances to speak with decision-makers.
According to a study conducted by Forrester, over 300 B2B executives found that only "20% of the salespeople they meet with are successful in achieving their expectations and creating value."
It's factors like this that cause decision-makers to send out "procurement-level" buyers to speak with vendors, rather than speaking to them personally.
This can make closing a deal much more difficult and even cause issues after the close if the decision-maker isn't fully "bought in."
Does your sales team find itself playing telephone when working with prospects? How does it affect their closing rates? How much does this prolong the sales cycle?
How you can use this to your advantage
In such cases, you have a decision. Either rely on your point of contact to convey the right message to their decision-maker — or arm them with the right content to educate the others.
They Ask, You Answer provides the framework for the latter.
When your sales team is equipped with the right articles, videos, and tools, they can ensure that all decision-makers get the same information.
While you might become a teacher from afar, you become a teacher nonetheless.
Let's say you're not the least expensive option for your particular service offering. In order to help all the decision-makers discover the difference in value and not just focus on the price tag, they need to be educated.
It's also important that all decision-makers are getting the same education you're sharing with your direct contact, otherwise you've left room for assumptions.
As an example, ASLAN, a sales training organization, addresses the cost of virtual sales training programs in an article called, "How Much Does Virtual Sales Training Cost?"
The article addresses the major factors that affect the cost of one of ASLAN's core service offerings. In turn, decision-makers can learn about its value.
Once such content is been produced, sales reps can include it in their correspondence to decision-makers — or simply provide it to their point of contact to pass along.
Either way, you're ensuring all parties have been educated on the difference between price and value even when you couldn't meet with them — and that they all have the exact same information.
But it doesn't stop at only addressing cost and price...
Reason 3: The B2B marketplace is starving for reviews and comparisons
In the past 10 years, we've witnessed an explosion of review sites like Angie's List, Trustpilot, and Google My Business. These sites are fueled by crowd-sourced reviews that provide, for some, a significant tool for comparing vendors.
Your industry may or may not be affected by sites like these, but they do highlight one very important piece of They Ask, You Answer's Big 5 content topics:
Your buyers want to compare things, and they don't want to make the wrong decision. They want to know about your competitors, and they want an unbiased take.
For many organizations, the prospect of candid, unbiased content is way too radical to even consider. Therein lies the opportunity for a They Ask, You Answer organization, and why so many who have embraced the principle of obsessing over a buyer's concerns have been so successful.
How you can use this to your advantage
You need to address reviews and competitors head-on.
It's important to consider exactly what your ideal customer is truly comparing and contrasting as well. In addition to comparing vendors, it's likely they want to compare different strategies and solutions to their problems.
You should create content to explore and answer these queries.
We at IMPACT are no exception to the rule, which is why we addressed how we stack up to our own competitors in "IMPACT vs New Breed vs SmartBug: Which agency is right for me?"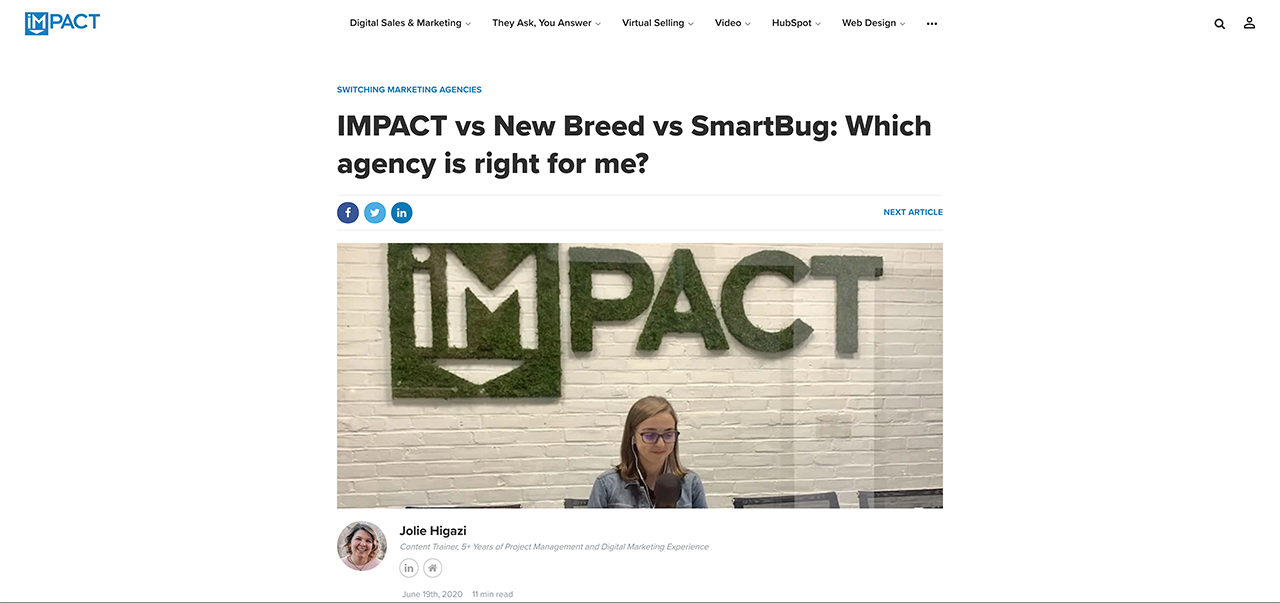 This is a question, that in the past, may have felt uncomfortable to address. (Not to mention, before we had put the time into addressing it in an article, there wasn't truly a common answer amongst our own team.)
However, putting the principles of They Ask, You Answer into practice ourselves and taking the time to answer this frequently asked question has created an incredible opportunity for building trust with our customers and making a direct, unbiased argument for what sets us apart.
B2B organizations are in the business of trust, just like everyone else
There is one thing that binds all businesses together, whether we're a product or service company, B2B or B2C, local or international, large or small: we're all in the business of trust.
When you break it down, that's the fundamental emotion a buyer must feel towards any business in order to work with them.
If they don't trust you, you can assume they'll be more reluctant, uncertain, and skeptical about your relationship. Those aren't emotions that move buyers to action and certainly aren't a foundation to build rapport on.
They Ask, You Answer provides a framework for us to earn trust by teaching the way that the buyer prefers to learn.
As I mentioned in How do I know when I'm ready for They Ask, You Answer? (which I suggest you read next, by the way):

"Keep in mind that They Ask, You Answer contains many formulaic approaches to sales, marketing, alignment, and culture; but it's a model, not a formula.

A formula says 'do these six things and you'll be successful.' A model is something that you grow into and shape to fit your needs."
The story of River Pools and Spas provides an example of what's possible, but it's easy to get caught up in the application.
What's underneath the application is more important because you find a set of principles that apply to all organizations.
To hear from other B2B companies about the success they've found with They Ask, You Answer, check out our digital sales and marketing success stories.
And talk to an IMPACT advisor if you'd like to learn more about how this framework can apply to your organization.
Free Assessment:
How does your inbound marketing measure up?
Take this free, 5-minute assessment and learn what you can start doing today to boost traffic, leads, and sales.
Get Started
Free Assessment:
How does your inbound marketing measure up?
Take this free, 5-minute assessment and learn what you can start doing today to boost traffic, leads, and sales.
Published on December 14, 2021