Using They Ask, You Answer in Customer Service
Happy customers become ambassadors for your brand. Use HubSpot and They Ask, You Answer to help them stay connected.
Going all-in on They Ask, You Answer means fully committing to education. Your marketers focus on publishing information that helps people understand and solve their problems — and your salespeople are teachers first, guiding prospects to see their options and make the best decision for them.
At IMPACT, we've seen this commitment first-hand hundreds of times. When we guide businesses to They Ask, You Answer mastery, we're asking them to change how they do things.
When they go all-in, they see transformational growth — and they start looking for novel ways to implement They Ask, You Answer at their business. For some, this means using the framework in hiring and onboarding.
For others, it's using it to enhance the customer experience, which is our focus today.
With recent updates to HubSpot's Service Hub, there are more opportunities than ever to improve the way your business treats its customers. And using They Ask, You Answer is a great framework to do so.
In this article I'm going to:
Provide a quick overview of the They Ask, You Answer framework.
Explain how (and why) to apply it to customer service.
Show how we teach our clients to use HubSpot to do this.
Let's dive in.
Wait, what is They Ask, You Answer?
They Ask, You Answer is a business framework centered on inbound marketing and sales. Developed by Marcus Sheridan to save his struggling business 15 years ago, They Ask, You Answer spawned a book and a worldwide business movement. Today, Marcus is a keynote speaker who shares his vision with audiences around the world — and a co-owner at IMPACT.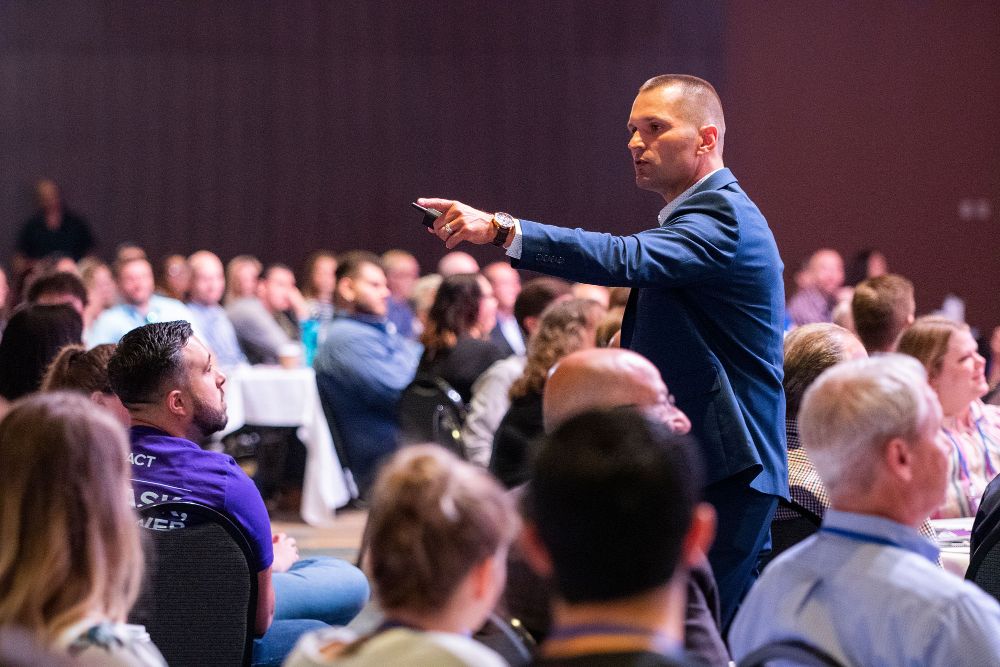 At its center is a simple premise: When we focus on educating prospects instead of talking them into a sale, we end up with happier customers.
They Ask, You Answer requires businesses to openly and honestly address all buyer questions on their website (think: if the customers ask, you should answer). Even uncomfortable questions about cost, competitors, and the drawbacks of your products and services get the same treatment.
They Ask, You Answer businesses are transparent
This focus on buyer education builds trust and speeds up the sales cycle. Good-fit prospects enter the sales process ready to buy, while bad-fit prospects opt-out and go elsewhere.
Businesses of all stripes have used They Ask, You Answer to revolutionize the way they interact with customers — and we have a deep library of case studies to prove it.
But your relationship with your customer doesn't cease when the deal closes.
Just as HubSpot explains with its flywheel model, you want that customer to become a promoter to keep your business's momentum going.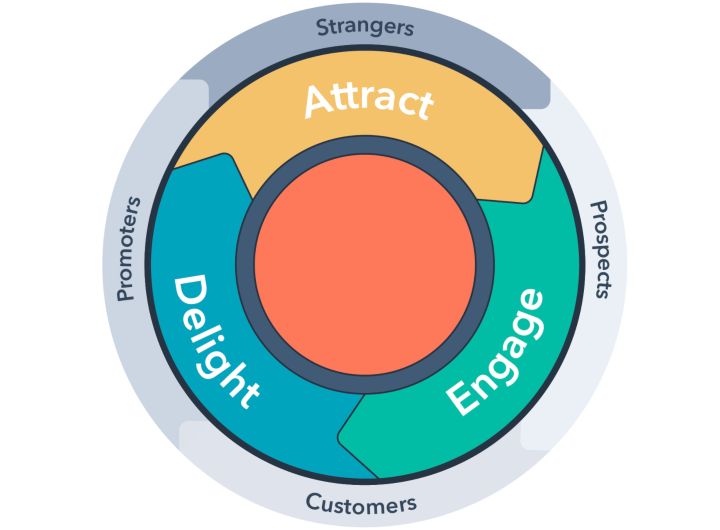 A promoter could become a word-of-mouth advocate or a repeat buyer. It all depends on your customer service.
Today, They Ask, You Answer businesses are applying the framework to their customer service — and using HubSpot's Service Hub to do so.
They Ask, You Answer in customer service
Treating customers with honesty and transparency shouldn't stop once the deal has closed. Here's how you can keep answering questions and building trust after a prospect becomes a customer.
Today's customer is tomorrow's promoter
The customer who just bought from your company could become your greatest evangelist — or they could turn out to be disgruntled and disappointed. One will help your brand, the other will warn whole networks of people not to do business with you.
Which will it be?
As HubSpot says, promoters become a force that spins your flywheel. But this only happens if the customer experience is great.
How do you craft an exceptional customer experience?
It starts by building your knowledge. Audit the customer experience, noting every touchpoint. What information would enhance the customer experience? What are your customers' hopes, fears, and concerns after they buy?
The best source for this information is from the customers themselves.
Gather questions from service calls
At IMPACT, we train our clients to see sales call recordings as a goldmine of inbound marketing ideas. If you're ever unsure about what questions your buyers are asking, watch a sales call. You'll come away with a hefty list.
The same tactic can be used with service calls. If you're eager to produce content that speaks to your customers, you need to know what they're asking.
If your business uses a ticketing system, you can check the pipeline to see communication and service call notes — and even service call recordings.
Watch these calls to get to know your customers.
You can now do this more efficiently than ever before. Many teams employ tools like Gong and Chorus that use artificial intelligence to scan through sales call recordings for key terms, questions, and other details. HubSpot offers its conversation intelligence feature to Service Hub Enterprise users.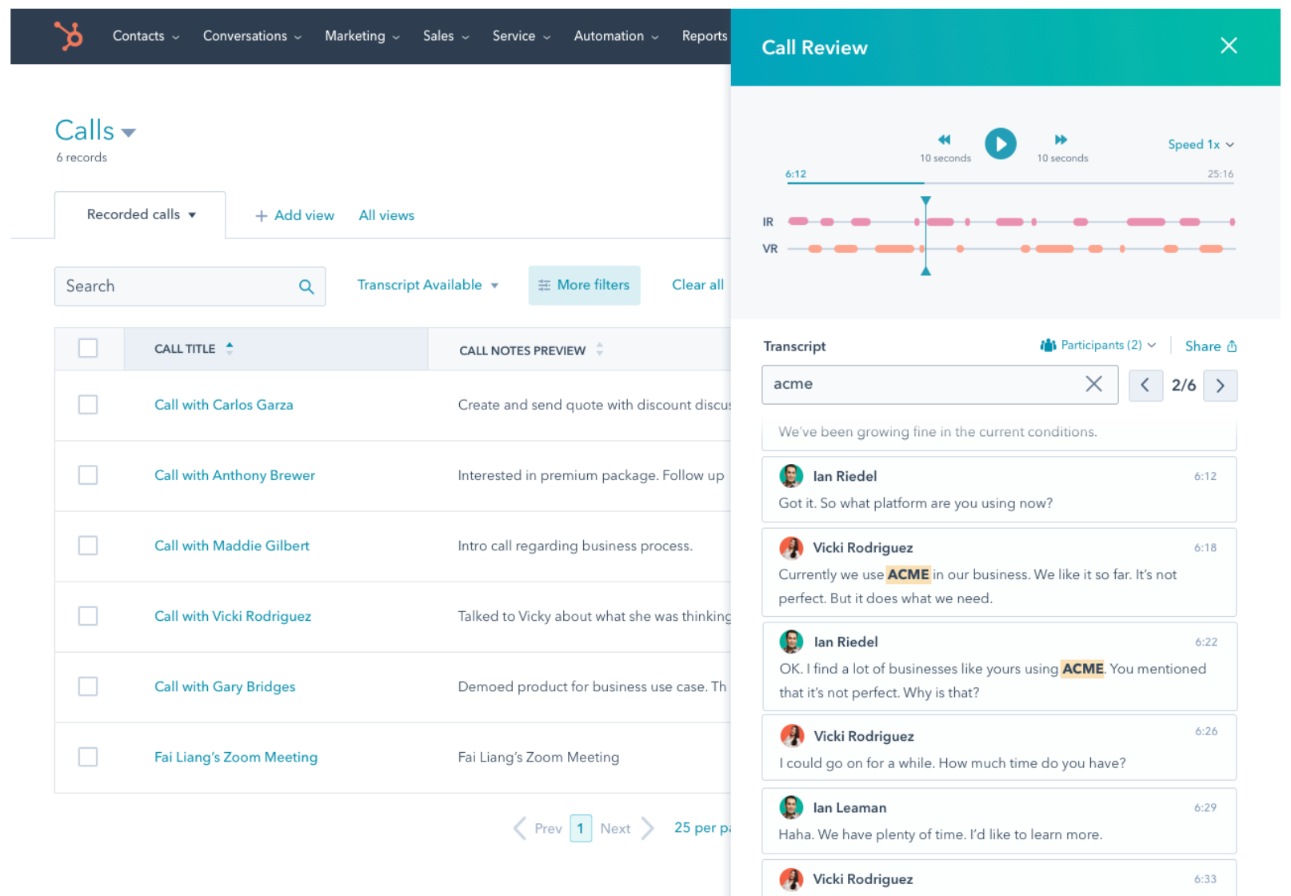 Service calls give your marketing team a first-row seat for the customer experience.
But being a customer comes with its own set of questions and concerns. Recorded service calls let you gather these directly from the customers.
So, what do you do with all of these new insights?
Produce a newsletter (or other customer-centered content)
They Ask, You Answer tends to focus on your buyers, but they don't stop having questions once they buy. Content aimed at customers can keep their experience pleasant and keep your business top of mind.
You could certainly write articles for this audience, but a better idea is something like a newsletter or video series that helps them get more out of your product or service.
Once a customer closes, you can enter them into an email sequence that delivers your newsletter to their inbox every month.
Publish customer guides
A customer guide is similar to a buyer's guide — just intended for a different audience.
Think of a customer guide as a cross between an owner's manual and an enthusiast magazine.
A customer guide provides the information that allows a customer to be successful with whatever you sell. You want them to stay happy and to know what to expect.
If you sell software, your customer guide could be a get-started guide with tips, tricks, and troubleshooting. If you sell boats, you could include a monthly maintenance schedule so your customers keep their boats in tip-top shape.
Happy customers are going to be your promoters. If you want those customers to become brand ambassadors, give them the information that will make them love you even more.
Garner customer feedback
If you really want to know what your customers' experience is like, you should ask them.
Customer surveys give you the critical data you need to tweak the way you do business — and get ahead of any issues.
In Service Hub Starter and above, HubSpot users can send pre-built surveys at regular intervals and track the feedback they get. Higher tiers can customize surveys with a diverse array of questions, branching logic, and more.
Whether these surveys are scheduled at regular intervals or prompted by specific customer actions, you can use them to check in and gather meaningful feedback.
Build a customer onboarding experience
All Service Hub users (even at the free level) have access to a ticketing pipeline system that could easily be repurposed as an onboarding tool.
Everything mentioned above can be tracked with a ticketing pipeline.
A welcome email, a customer guide, a piece of content directly speaking to a customer's needs — each can be tracked (and even automated) with the ticketing tool.
When a customer makes a purchase, they can be entered into a ticket pipeline that tracks communication touchpoints and other details so you can be sure each customer is onboarded effectively.
Serving your customers after they close
Happy customers are critical to your long-term success. And happy customers don't happen by accident.
Although most of our clients start out just using Marketing Hub, they quickly realize they need Sales Hub as well. Then, when they approach full They Ask, You Answer mastery, they add Service Hub to their tech stack.
With the full suite of HubSpot tools, they can finally provide their customers with a fully seamless experience — from the website to the sales process to the customer experience. And they have data for every touchpoint.
If you're interested in using They Ask, You Answer to enhance your customer experience, use the same principles you applied to marketing and sales. Find out what your customers are asking. Produce content that addresses their questions. Keep them engaged with information that helps them succeed with the thing you sell.
And utilize HubSpot's features to track it all.
Free Assessment:
How does your inbound marketing measure up?
Take this free, 5-minute assessment and learn what you can start doing today to boost traffic, leads, and sales.
Get Started
Free Assessment:
How does your inbound marketing measure up?
Take this free, 5-minute assessment and learn what you can start doing today to boost traffic, leads, and sales.
Published on April 1, 2022